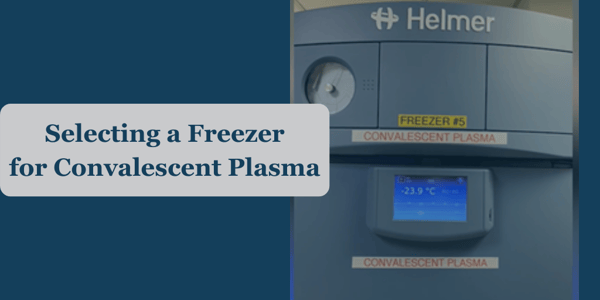 COVID-19 Convalescent Plasma, or CCP, is being transfused as an investigational therapy for patients battling the novel coronavirus. Convalescent plasma plays a critical role in offering hope to these patients. For blood centers and hospitals, the ability to store CCP within the proper temperature range is essential to ensuring its viability.
In their Recommendations for Investigational COVID-19 Convalescent Plasma, the FDA states that the manufacturing process and expiration date for COVID-19 convalescent plasma should be the same as for other plasma products of the same type. For example, COVID-19 Convalescent Plasma, Fresh Frozen, should be frozen within 8 hours after collection, stored at -18C or colder, and have an expiration date one year from the date of collection.
For convalescent plasma storage, it is important to think about what matters in the design of the freezer. What is it about the unit that helps facilities meet regulations for storing frozen plasma products? Are there any other considerations that should be taken into account when selecting a Plasma Freezer?
For this reason, we have developed a Best Practices Guide for Selecting Plasma Freezers. The guide outlines the specific AABB standards that define the characteristics of a Plasma Freezer and provides additional considerations for best practices. It clarifies how the design of a Plasma Freezer can help blood centers and hospitals comply with standards and facilitate best practices in an easy-to-use checklist format.
Other Blogs You Might Be Interested In...
Helmer Scientific supports blood centers and hospitals, the patients they serve, and their efforts to keep the blood supply safe. We would like to express our gratitude to all staff involved in collecting, processing, and transfusing blood therapies to treat patients and save lives. We are here to help you properly store and monitor your blood products during the COVID-19 pandemic.
To learn more about freezers designed to store convalescent plasma as well as your regular plasma inventory, download the Best Practices Guide for Selecting Plasma Freezers.