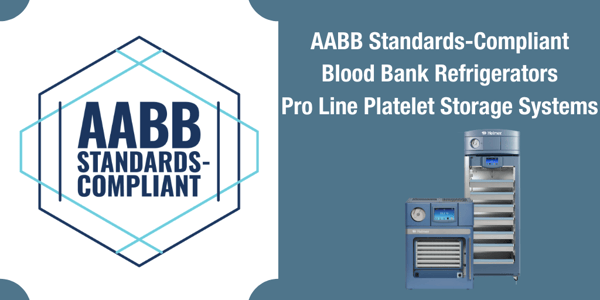 In 2019 AABB launched the Standards-Compliant Product Evaluation (SCoPE) Program for vendors that serve the transfusion medicine community. The program was developed to recognize suppliers that demonstrate compliance with AABB Standards.
The program is also intended to help vendors develop a better understanding of AABB Standards and how blood bank professionals rely on their products and services to meet accreditation requirements.
As described by Jay Lewis, Director of Marketing and Communications at AABB, "AABB's new Standards-Compliant Product Evaluation [SCoPE] Program will show membership that AABB holds vendors to the same standards as accredited institutions. It also shows how we all work together for donor and patient safety."
Helmer Undercounter Blood Bank Refrigerators and the UltraCW® II Automatic Cell Washing System were the first products to be recognized by the program as AABB Standards-Compliant.
Now, Helmer Upright Blood Bank Refrigerators and Pro Line Countertop Platelet Storage Systems have also been awarded SCoPE approval. Newly recognized models are as follows:

"The designation indicates that Helmer is providing a valuable product for the field that is backed by quality systems. AABB's 'Standards-Compliant' seal is recognition that Helmer provides information in the product's written instructions that comply with AABB Standards," said Anne Chenoweth, MBA, MT(ASCP)CM, CQA(ASQ), Senior Director of Accreditation and Quality at AABB. "It is significant because it shows that Helmer cares about customer needs and has undergone an evaluation of its products and processes by AABB to earn this designation."
Other Blogs You Might Be Interested In...
To learn more about the AABB Standards-Compliant Product Evaluation program, Helmer Scientific's participation and SCoPE recognized products, click the link below.