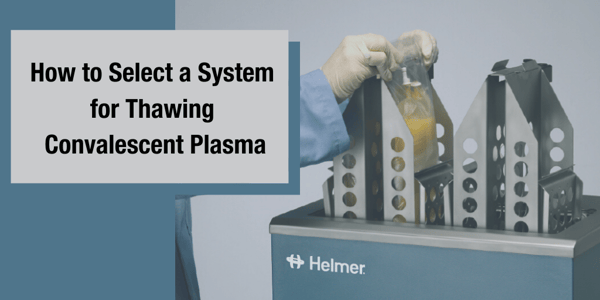 COVID-19 Convalescent Plasma, or CCP, is being transfused as an investigational therapy for patients fighting the novel coronavirus. While its efficacy has not yet been determined, a small study recently indicated it is showing promise as a treatment option.
Another study of CCP transfusions has provided an early indication that the treatment is safe for hospitalized patients with COVID-19. The analysis includes data from the first 5,000 patients enrolled in the Expanded Access Program.
Convalescent plasma is a blood product that must be thawed in the same manner as other frozen plasma products, following AABB Standards in addition to normal hospital procedures and recommendations.
When selecting a device to thaw COVID-19 convalescent plasma, it is important to think about how it is designed. What is it about the unit that helps our customers meet regulations for thawing frozen plasma products? Are there any other considerations that should be taken into account when selecting a Plasma Thawing System?
For this reason, we have developed a Best Practices Guide for Selecting Plasma Thawing Systems. The guide outlines the specific AABB standards that define the characteristics of plasma thawers and provides additional considerations for best practices. It clarifies how the design of a Plasma Thawing System can help blood centers and hospitals comply with standards and facilitate best practices in an easy-to-use checklist format.
Other Blogs You Might Be Interested In...
Helmer Scientific supports blood centers and hospitals, the patients they serve, and their efforts to keep the blood supply safe. We would like to express our gratitude to all staff involved in collecting, processing, and transfusing blood therapies to treat patients and save lives. We are here to help you properly store, monitor, and thaw your blood products during the COVID-19 pandemic.
To learn more about the systems designed to thaw convalescent plasma as well your regular inventory of frozen products, download the Best Practices Guide for Selecting Plasma Thawing Systems.