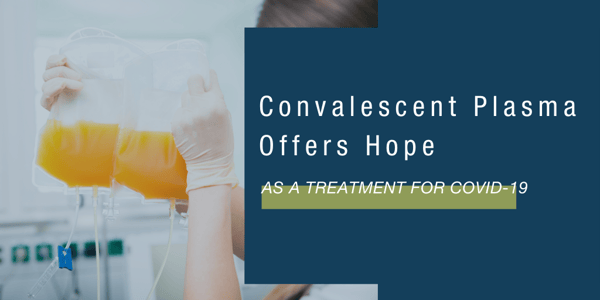 Donated plasma from patients who have recovered from COVID-19 may be able to help those fighting the infection. Plasma from those who have been infected and subsequently recovered contains antibodies to the virus. This type of plasma is now known as COVID-19 Convalescent Plasma or CCP.
If someone has had COVID-19 and would like to donate, they must be fully recovered to be eligible (symptom-free for 14 days or tested negative after initial diagnosis). Serological tests can also help identify individuals who have overcome an infection in the past and have developed an immune response.
The U.S. FDA has announced an initiative to facilitate the development of potential COVID-19 therapies, including CCP as well as hyperimmune globulin (hyper-IG), a blood product made from convalescent plasma. These therapies may have the potential to lessen the severity or shorten the length of illness in patients currently fighting the infection.
The FDA's initial effort has been focused on facilitating access to convalescent plasma through an emergency investigational new drug (IND) process. The agency provided information to help healthcare providers submit applications to treat individual patients and to begin implementing clinical trials to evaluate the safety and efficacy of CCP. The FDA is also working with industry and government partners to accelerate the development and availability of hyper-IG as a potential COVID-19 treatment.
AABB has published a COVID-19 Convalescent Plasma Resources page and a protocol for COVID-19 Convalescent Plasma Collection: Donor Eligibility, Processing, Labeling, and Distribution. In addition, AABB has launched a new COVID-19 Convalescent Plasma website, www.COVIDPlasma.org. This site is a resource to educate interested donors, the health care community, and the public on the rapidly evolving therapy of CCP.
Researchers and practitioners have also set up a National COVID-19 Convalescent Plasma Project website with information for healthcare providers who are considering using CCP to treat patients, both within or outside the context of a clinical trial. It includes trial protocols as well as information for potential donors, COVID-19 patients, and their families.
Other Blogs You Might Be Interested In...
Helmer Scientific supports blood centers and hospitals, the patients they serve, and their efforts to keep the blood supply safe. We would like to express our gratitude to all staff involved in collecting, processing, and transfusing blood therapies to treat patients and save lives. We are here to help you properly store and monitor your blood products during the COVID-19 pandemic.
In addition to collecting standard blood products, many blood centers are collecting COVID-19 convalescent plasma. To find out where to donate in your community, follow the link below.