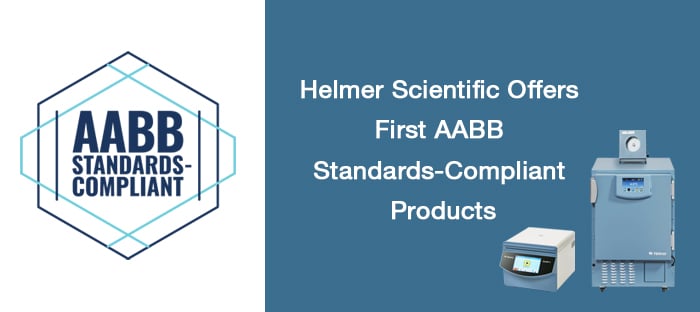 Note: As of March 2022, AABB has updated branding for this program, retiring the SCoPE acronym and referring to it as the AABB Standards-Compliant Products Program.
AABB has announced a new Standards-Compliant Product Evaluation (SCoPE) Program for vendors that supply products and services to the transfusion medicine community. It is designed to recognize participating suppliers that demonstrate compliance with AABB Standards.
The program is also intended to help vendors develop a better understanding of AABB Standards and how blood bank professionals rely on their products and services to meet accreditation requirements.
As described by Jay Lewis, Director of Marketing and Communications at AABB, "AABB's new Standards-Compliant Product Evaluation [SCoPE] Program will show membership that AABB holds vendors to the same standards as accredited institutions. It also shows how we all work together for donor and patient safety."
Helmer Scientific was invited to participate in the pilot for the new program, which is structured around evaluations of specific products. In order to qualify for approval, technical documentation such as Operation and Service Manuals for these products must be reviewed by an AABB expert in standards and quality systems. In addition, the review looks at aspects of a vendor's Quality System that impact their ability to support customers' efforts to comply with AABB standards.
Select products from Helmer Scientific are the first to achieve the new Standards-Compliant designation. Products that were evaluated during the pilot phase of the program include i.Series® and Horizon Series™ Undercounter Blood Bank Refrigerators (iBR105-GX and HBR105-GX) and the UltraCW® II Automatic Cell Washing System.
"The designation indicates that Helmer is providing a valuable product for the field that is backed by quality systems. AABB's 'Standards-Compliant' seal is recognition that Helmer provides information in the product's written instructions that comply with AABB Standards," said Anne Chenoweth, MBA, MT(ASCP)CM, CQA(ASQ), Senior Director of Accreditation and Quality at AABB. "It is significant because it shows that Helmer cares about customer needs and has undergone an evaluation of its products and processes by AABB to earn this designation."
To learn more about the AABB Standards-Compliant Product Evaluation program, Helmer Scientific's participation and SCoPE recognized products, click the link below.
Other Blogs You Might Be Interested In...