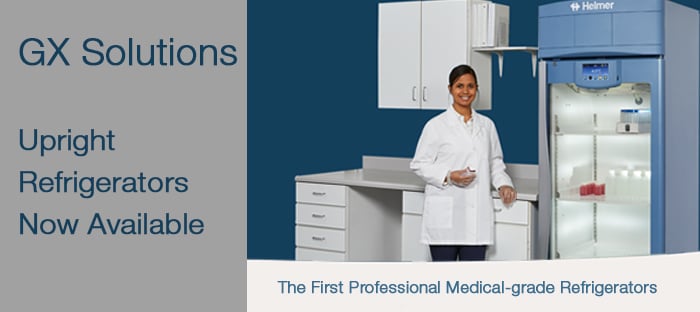 Continuing to expand their portfolio, Helmer Scientific announces the launch of Upright Laboratory, Pharmacy and Blood Bank GX Solutions, the first professional medical-grade refrigerators.
The expansion of GX Solutions to include all refrigerator models positions the line to meet current and future energy standards. The use of OptiCool™ cooling technology, pairing a variable capacity compressor (VCC) and natural hydrocarbon refrigerants (HC), allows GX Solutions to excel in three key temperature management areas: uniformity, recovery and stability. In addition, energy savings of 50% or more over conventional medical-grade refrigerators are achieved while having no impact on ozone depletion and eliminating gases targeted under the US EPA Significant New Alternatives Policy (SNAP), Paris Climate Agreement, Montreal Protocol and EU F-Gas Initiative.
"Helmer Scientific is excited to expand our Energy Star certified GX Solutions to the entire refrigerator portfolio", said Ben Greenfield, Director of Marketing and New Business Development. "Launching new and innovative products is part of our commitment to serving and supporting our customers."
For more information on innovative GX Solutions, read the complete Press Release or visit our website.
Other Blogs you may be Interested In...