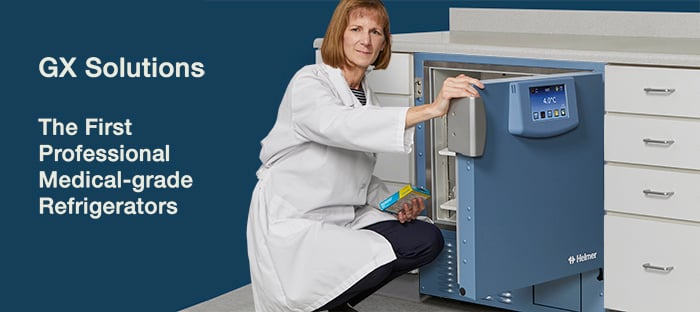 Helmer Scientific, a leading supplier of cold storage and processing equipment, has announced the release of GX Solutions, professional medical-grade refrigerators with OptiCool™ cooling systems.
GX Solutions are designed for unique critical healthcare applications and offer optimized control in temperature management (uniformity, recovery and stability), noise management and energy management. OptiCool™ cooling technology powers GX Solutions and pairs a variable capacity compressor (VCC) and hydrocarbons (HC) to achieve performance characteristics that offer a superior storage environment, save on energy usage and support environmental sustainability.
GX Solutions are Energy Star certified. These professional medical-grade refrigerators are over 50% more energy efficient than conventional medical-grade refrigerators. In addition, GX Solutions have been designed to combat high noise levels in hospital and healthcare settings.
For more information on these innovative new solutions, read the complete Press Release or visit our website.