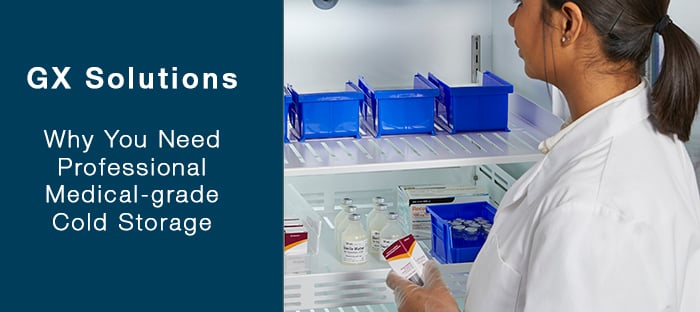 Proper cold storage of medications, vaccines, blood products and patient samples is critical in the healthcare environment, and often can be the difference between viable, effective products and samples, and ineffective or wasted product. With the introduction of GX Solutions from Helmer Scientific, professional, medical-grade cold storage is now available and takes cold storage to new levels. Focusing on temperature, noise and energy management, GX Solutions are the first cold storage solutions to optimize all three areas and offer a professional, medical-grade solution.
GX Solutions are designed for critical healthcare applications and offer optimized control in temperature management (uniformity, recovery and stability), noise management and energy management. OptiCool™ cooling technology powers GX Solutions and pairs variable capacity compressor (VCC) technology and hydrocarbons (HC) to achieve performance characteristics that offer a superior storage environment, save on energy usage and support environmental sustainability.
In our GX Solutions eBook we provide the definition of a Professional Medical-grade Refrigerator, as well as offer evidence of the multiple benefits of combining VCC technology and hydrocarbons. The eBook also covers how you can experience long term savings with lower cost of ownership over the life of your GX Refrigerator.
Here is a peek inside the eBook:
Professional Medical-grade Refrigerators defined
There's more to temperature management than just uniformity
Why noise is a critical patient and healthcare personnel complaint
Reduced energy consumption is good for the wallet and the environment
OptiCool™ cooling technology meets ever-changing energy standards, decreasing the carbon footprint
Lower cost of ownership: reducing the bottom line
The eBook provides a comprehensive look at how GX Solutions deliver professional, medical-grade solutions for critical storage of healthcare applications.