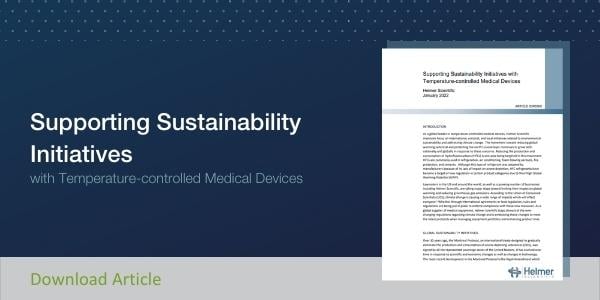 Climate change is being increasingly recognized as a contributor to a range of health consequences around the world. At the most recent United Nations Climate Change Conference, these risks became a primary focus, as more evidence shows the negative impact of climate change, not only on the environment but also on human health.
A recent New York Times article explained, "There is a growing body of research showing that climate change is contributing to a wide range of health risks around the world. It is exacerbating heat waves, intensifying wildfires, heightening flood risks and worsening droughts. These are, in turn, increasing heat-related mortality, pregnancy complications and cardiovascular disease. And as with many things climate-related, the risks and harms are particularly severe in places that are the least able to respond."
There is also increasing recognition that healthcare organizations themselves contribute to climate change. A significant percentage of greenhouse gas emissions come from the healthcare industry. These emissions contribute to global warming, which in turn leads to increasing health issues in the population. The cycle perpetuates itself as health systems must provide more patient care, which in turn exacerbates their environmental impact.
Healthcare organizations utilize temperature-controlled medical devices in multiple departments such as the laboratory, blood bank, pharmacy, and on nursing floors. These devices store a variety of critical items within strictly defined temperature ranges, including patient specimens, reagents, blood products, medications, and vaccines.
For many years, devices that use conventional cooling technology were the only alternative capable of achieving the strict temperature ranges required in healthcare. These systems provide a stable storage environment, but utilize hydrofluorocarbon refrigerants (HFCs) that are targeted by environmental regulations due to their high Global Warming Potential (GWP). They also consume more energy than newer approaches that are designed to address sustainability and meet requirements phasing down the use of HFCs.
Other Blogs You Might Be Interested In...
Our article on supporting sustainability initiatives with temperature-controlled devices provides more information on regulatory efforts to target climate change, both globally and in the United States.
It also describes Helmer Scientific's proactive approach to managing our product portfolio, which supports our customers' efforts to comply with regulations and reduce environmental impact.