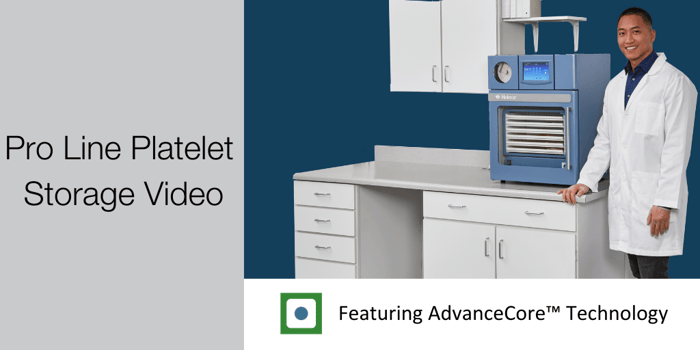 Platelet products are unique because they have a limited shelf life and require a great deal of resources for donor centers to collect, manufacture, and deliver to hospitals. The COVID-19 pandemic has adversely impacted the availability of platelets, with inventory levels barely keeping pace with demand. Even during normal times, it can be challenging for blood banks to maintain a sufficient supply of platelets to meet patient needs.
This means it is essential for transfusion medicine laboratories to use equipment that reliably maintains the proper temperature range and constant agitation required for platelet storage. Dependable performance in terms of minimizing maintenance issues and downtime is also extremely important.
Pro Line Countertop Platelet Storage Systems take an innovative approach to maintaining the proper temperature range. They are powered by AdvanceCore™ technology, which uses a specially designed solid-state thermoelectric cooling and heating system rather than a compressor to maintain the temperature. In addition, Pro Line Platelet Storage Systems have been designed and tested for long-term reliability.
Pro Line Platelet Storage Systems offer the following benefits:
Energy Efficiency
At least 80% more energy efficient than traditional systems, Pro Line reduces energy use, which decreases the total cost of ownership.
Quiet Operation
Low sound levels mean fewer distractions and a better working environment for staff.
Supports Sustainability Initiatives
Helps facilities meet new environmental standards phasing out the use of HFC refrigerants.
Other Blogs You Might Be Interested In...
Watch our video to learn more about AdvanceCore™ Thermoelectric Heating and Cooling Technology and the benefits of Pro Line Countertop Platelet Storage Systems.