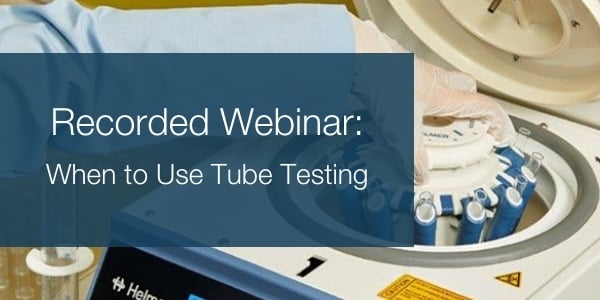 Over time, automation has increasingly been adopted in blood banks, providing alternatives to traditional test tube methods for pre-transfusion testing. The available technologies for this type of testing each have their own advantages and limitations. Therefore, it is valuable to identify situations where it makes sense to apply tube testing methods to mitigate the limitations of other techniques.
Helmer Scientific hosted a webinar called "Options for Pre-Transfusion Testing – Where Does Tube Testing Fit?" This program was presented by Susan T. Johnson, MSTM, MT (ASCP) SBB, Director of Clinical Education and Specialist in Blood Banking at Versiti - Wisconsin.
The one-hour presentation covered topics including the advantages and disadvantages of technologies available for pre-transfusion testing, and recommended scenarios when tube testing should be considered the gold standard. Some examples of the scenarios presented included:
ABO discrepancy
Trauma with no historical ABO, Rh
Questionable RhD typing results
Inconclusive results
"I am still a strong believer that you need test tubes available for your pre-transfusion testing," Susan stated during her presentation. "We have to be cognizant of what (automated technologies) offer to us and where there might be areas where we need to do a bit more testing or problem solving to address the kinds of problems that we might run into."
Other Blogs You Might Be Interested In...
The recorded webinar also reviews options for pre-transfusion testing and where it makes sense to use test tube methods. We have provided the recording and the slides from the webinar.