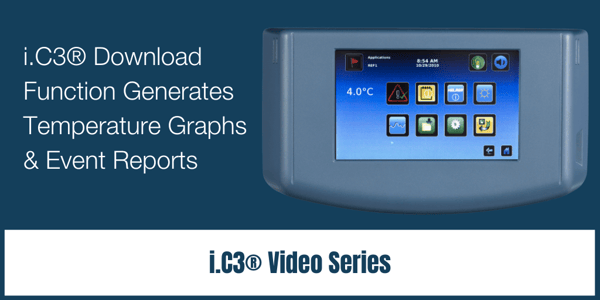 AABB Standards require the storage temperatures of refrigerators, freezers, and platelet incubators be monitored. i.Series® temperature-controlled storage products from Helmer Scientific feature the i.C3® Information Center. This touchscreen user interface provides continuous temperature monitoring as well as reporting capabilities, supporting blood banks in their efforts to meet regulatory requirements.
The i.C3® supports compliance by monitoring the temperature inside a temperature-controlled storage device and activating an alarm if the temperature rises above or falls below the acceptable range. In addition, the i.C3® stores temperature data and an event log. An important feature of the i.C3® is the ability to download this information via USB.
The download function gives users the ability to transfer files in PDF format or as data files. The PDF download provides temperature graphs and event history reports. Data files can be downloaded in CSV format, including up to 10 years of temperature and event history.
In either format, the downloaded event log provides a record of all events, including automatic alarm tests. This is important for compliance with the College of American Pathologists (CAP) Transfusion Medicine Checklist requirement TRM.42750, which calls for blood banks to be able to clearly show the temperature at which the alarm activated during a test.
The i.C3® documents the test and the alarm activation temperature in an electronic record, which can be accessed in the storage unit's event log. The event log is included in the download and can be saved, providing a record of the alarm test. Downloading the event log provides blood banks with an electronic record that supports compliance with CAP requirements.
A series of videos has been created to demonstrate the features of the i.C3® Information Center. The video below provides a demonstration of the download functionality included in the i.C3®.
Other Blogs You Might Be Interested In...
As shown in the video, download functionality is available for PDF and data files. The PDF download provides users with pre-formatted temperature graphs and alarm event history reports. The PDF reporting functionality is easy to use and automatically generates graphs, eliminating the need for users to create them from data files.
More information is available in our i.C3® Guide for PDF Reports. It provides details on the PDF download function, along with sample temperature graphs and alarm event history reports.