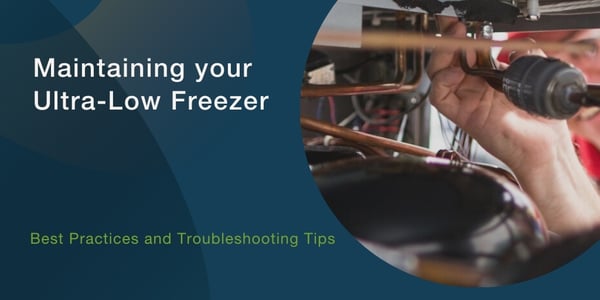 When your lab is storing precious samples at ultra-low temperatures, reliable freezer performance is essential. An ultra-low freezer is a significant investment for a laboratory. To protect your investment, along with the integrity of the valuable samples stored inside, it is critical to properly maintain this key piece of equipment.
In addition to long-term sample storage in laboratories, facilities storing the Pfizer COVID-19 vaccine at -70°C also need to consider how to maintain their ultra-low freezers. When maintained properly, an ultra-low freezer typically lasts 10 years, providing long-term performance in return for the investment.
The unintended consequences of a poorly maintained ultra-low freezer can include catastrophic loss of potentially irreplaceable samples or critical vaccines, as well a decline in compressor efficiency over time. Therefore, proper maintenance and effective troubleshooting for ultra-low freezers should be considered a high priority.
In addition to preventing downtime and the possibility of compromised samples or vaccines, effective maintenance can help facilities reduce the total cost of ownership of an ultra-low freezer by limiting costly service calls. Approximately 15% of all failure calls could have been avoided with regular preventative maintenance.
OTHER BLOGS YOU MIGHT BE INTERESTED IN...
Helmer Scientific conducted a webinar to share information on troubleshooting and maintenance tips for ultra-low freezers. The topics discussed by the experts include the following key questions:
How often should an ultra-low freezer be defrosted?
This frequently asked question is discussed, and expertise shared on short-term and longer-term defrosting decisions.
What clearance requirements are needed for proper performance?
Because freezers need adequate ventilation to run properly, users need to ensure there is adequate space around the unit for proper airflow and access. The webinar provides perspective and practical advice on clearance requirements.
What is the control range of the freezer?
The webinar provides expert advice on choosing the optimal temperature setpoint for an ultra-low freezer.
To learn more, download the recorded webinar on best practices for ultra-low freezer troubleshooting and maintenance.