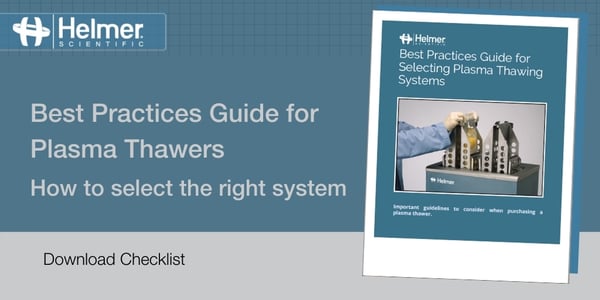 Frozen plasma products must be safely thawed prior to transfusion. Currently, transfusion services may need to thaw both standard plasma products and high-titer COVID-19 convalescent plasma (CCP). Fortunately, convalescent plasma is a blood product that can be thawed in the same manner as other frozen plasma products, in accordance with AABB standards.
When thawing frozen plasma products for transfusion, following standards is important to ensure compliance and safeguard the integrity of the thawed product. It can be helpful to know how a plasma thawer can support facilities in their efforts to meet AABB standards and whether there are other factors that should be considered when selecting a plasma thawing system.
A Best Practices Guide for Selecting Plasma Thawing Systems was created to help address these questions. The guide identifies the AABB standards that define the characteristics of a plasma thawer and provides further considerations for best practices. It illustrates how the design of a Plasma Thawing System can help transfusion services in an easy-to-use checklist format.
Other Blogs You Might Be Interested In...
Helmer Scientific supports blood centers and hospitals, the patients they serve, and their efforts to keep the blood supply safe. We would like to express our gratitude to all staff involved in collecting, processing, and transfusing blood therapies to treat patients and save lives. We are here to help you properly store, monitor, and thaw your blood products during the COVID-19 pandemic.
To learn more about the systems designed to thaw high-titer convalescent plasma as well your regular inventory of frozen products, download the Best Practices Guide for Selecting Plasma Thawing Systems.