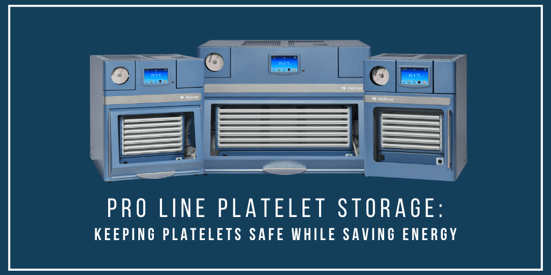 To maintain viability, platelet products must be stored within a tight temperature range and with continuous gentle agitation. Pro Line Platelet Storage Systems from Helmer Scientific offer the precise temperature uniformity, constant agitation, and reliable performance that are critically important to blood banks and support regulatory compliance.
Pro Line Platelet Storage Systems are powered by AdvanceCore™ Thermoelectric Heating and Cooling Technology. This specially designed system provides variable capacity operation which heats and cools only as needed to maintain the optimal temperature range. Pro Line systems are at least 80% more energy efficient than traditional incubators and agitators, reducing energy use and reducing the total cost of ownership.
In our Pro Line Platelet Storage eBook, we take an in-depth look at the Pro Line systems, including the benefits of AdvanceCore™ and the i.C3® information center with AgiTrak™ monitoring. The efficiency and sustainability advantages of the AdvanceCore™ system are also explained in terms of decreased energy use, lower cost of ownership, and a quiet work environment.
Other Blogs You Might Be Interested In...
Here's a quick look at the topics covered in the eBook:
Pro Line Platelet Storage Systems Defined
AdvanceCore™ Technology
Performance and Reliability
Monitoring and Control
AgiTrak™ Technology
Efficiency and Sustainability
Download the eBook for a comprehensive review of the benefits Pro Line Platelet Storage Systems offer for safe and reliable platelet storage.