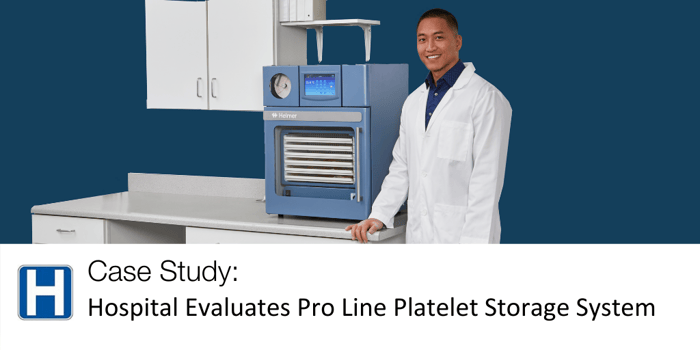 During the COVID-19 pandemic, the blood bank community has been presented with challenges to the blood supply and to their ability to optimize collections to meet demand. As blood establishments begin to recover from these issues, the new challenge is to rebuild their base of donors and to collect enough whole blood and platelets to keep pace with patient needs.
Blood centers have always devoted many resources to collecting, manufacturing, and delivering platelet products to hospitals. Platelet products have very specific storage requirements and a limited shelf life. For these reasons, they tend to be in short supply even at the best of times.
Because of the challenges involved in constantly ensuring the platelet supply is sufficient to keep pace with demand, it is critical for blood banks to have platelet storage systems that operate reliably and support regulatory compliance.
Helmer Scientific offers Pro Line Countertop Platelet Storage Systems. As part of our product development process, a Pro Line platelet agitator and incubator were placed at a large teaching hospital for evaluation. This enabled blood bank staff to interact with the system on a day-to-day basis.
Feedback from the evaluation site confirmed that the Pro Line platelet storage system provided the correct temperature range and continuous agitation required for platelet storage. Other considerations that were important to users at the evaluation site were as follows:
Reliable performance

Quiet operation

Ease of use
OTHER BLOGS YOU MIGHT BE INTERESTED IN...
Helmer Scientific supports blood centers and hospitals, the patients they serve, and their efforts to keep the blood supply safe. We have offered high quality storage equipment for more than 40 years and are here to help you properly store and monitor your platelet products. Read the case study, "Pro Line Countertop Platelet Storage System Evaluated at Large Teaching Hospital," to learn more.