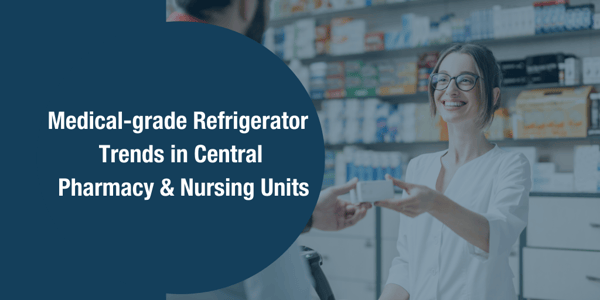 Medical-grade refrigerator adoption continues to climb. According to a recent Pharmacy Purchasing and Products (PP&P) survey of US Pharmacy Directors, pharmacies will be expanding the number of units purchased for clean rooms, central pharmacy, and nursing units over the next three years.
While medical-grade refrigerators are recommended, proper implementation and use of this technology is also of critical importance, including:
Number and location deployed across healthcare system
Dimensions and design of refrigerator
Temperature monitor tracking
Appropriate documentation
Accurate alarm management
Supporting policies and procedures
Staff training; cold chain procedures, refrigerator use and maintenance
Medical-grade refrigerators coupled with strong policies and procedures enhance patient safety, help reduce risk of medication errors, minimize drug waste, and protect temperature sensitive vaccines and medications from losing their efficacy.
Guidelines & Recommendations
The CDC defines a pharmaceutical-grade refrigerator as, "A unit that is specifically designed to store vaccines (CDC)." Increasing regulations of this important storage equipment continues to drive adoption in the ambulatory and acute settings.
The Centers for Disease Control and Prevention (CDC) along with the Joint Commission (TJC) have set high standards for what type of refrigeration should be used for vaccines and medications. These organizations also make it very clear that medications or vaccines should never be stored in a dormitory style refrigerator, which is defined as:
A combination refrigerator/freezer unit with one exterior door and an evaporator plate (cooling coil), which is usually located inside an icemaker compartment (freezer) within the refrigerator.
These units have been shown to pose a significant risk of freezing vaccines, even when used for temporary storage. Household-grade storage units can pose the same risk to vaccines and medications. The CDC highly encourages all providers to use pharmaceutical-grade refrigerators and freezers.
Medical-grade Refrigerator Adoption
According to PP&P, only 55% of hospitals are currently exclusively using medical-grade refrigeration on nursing units. This number is vastly lower than the percentage of medical-grade units exclusively being used in the pharmacy. However, hospitals plan to invest in this important technology outside of the central pharmacy. In fact, 45% of hospitals are planning to purchase refrigerators for the nursing floors over the next three years (PP&P).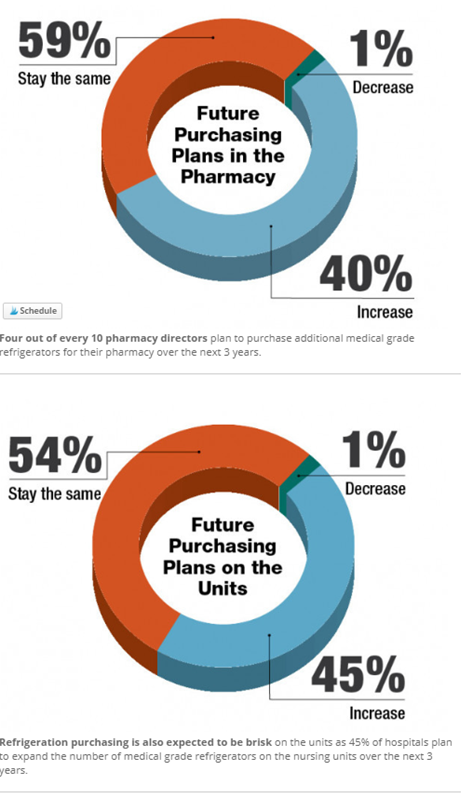 Important Considerations
There are so many refrigerator vendors to choose from that it can be overwhelming. The CDC or TJC does not endorse or recommend specific brands, however, there are a few brands which have proven to design and manufacturer reliable, high quality equipment for the safe storage of vaccines and medications.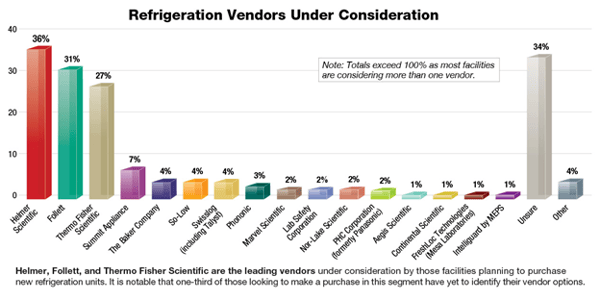 At minimum, ensure your vendor in consideration can meet CDC guidelines with their equipment. The CDC recommends the use of purpose-built or pharmaceutical-grade units designed to either refrigerate or freeze.
These units can be compact, under-the-counter style or large upright refrigerator units. In addition, ask the manufacturer to provide uniformity, recovery, and stability data. These three data points will give you an accurate picture of the unit's performance.
It is crucial for your facility to have proper pharmaceutical cold storage that is set up correctly, monitored accurately, maintained appropriately, and repaired as needed. This equipment protects patients from inadvertently receiving compromised drugs and your facility against regulatory citations, replacing expensive medications and vaccines, and enduring significant financial loss from equipment failure.
OTHER BLOGS YOU MIGHT BE INTERESTED IN...
We have developed the Best Practices Guide to help ensure all critical aspects are considered when selecting a unit for medical-grade refrigerator or freezer storage. The guide outlines specific standards recommended by the CDC, including equipment characteristics and additional considerations for best practices.
We have outlined crucial details in an easy-to-use checklist format for your facility to to use for proper vaccine cold storage and set-up.