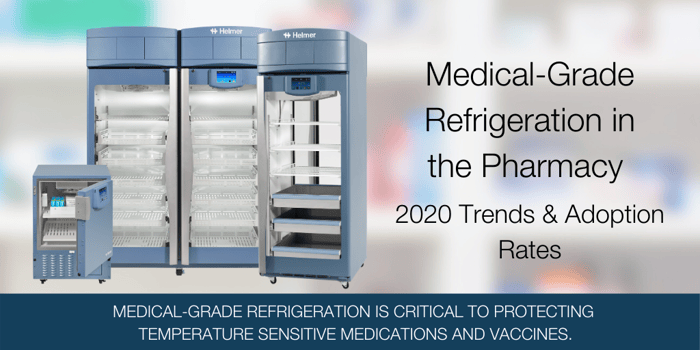 Medical-grade refrigeration is critical to protecting temperature sensitive medications and vaccines.
Pharmacy Purchasing & Products (PP&P) recently released the 14th Annual State of Pharmacy Automation Report which surveys pharmacists on the use of medical-grade cold storage. This report is based on responses from 260 Pharmacy Directors across facilities of different sizes, locations, and practice settings.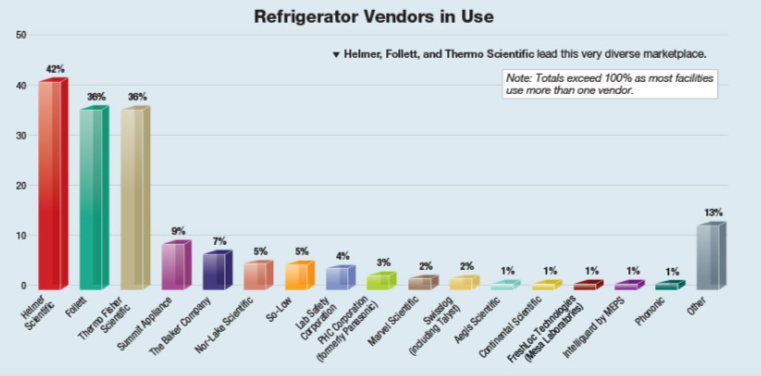 In the 2019 report, PP&P asked specific questions related to the adoption of medical-grade refrigeration for medication and vaccine storage in both the pharmacy and nursing unit setting.
The results of the PP&P survey indicate that around 95% of hospitals are committed to exclusively using medical-grade refrigerators in their central pharmacy (up from 89% in 2018 and 73% in 2012).
However, only 55% of respondents cited exclusively using medical-grade refrigeration in the nursing units. It is more common to find household units in medication rooms, patient rooms and on the patient floors. That said, use of medical-grade refrigeration on the floors has been on a steady increase since 2013. For comparison, in 2012, only 23% of facilities were using exclusively medical-grade refrigeration on the nursing units.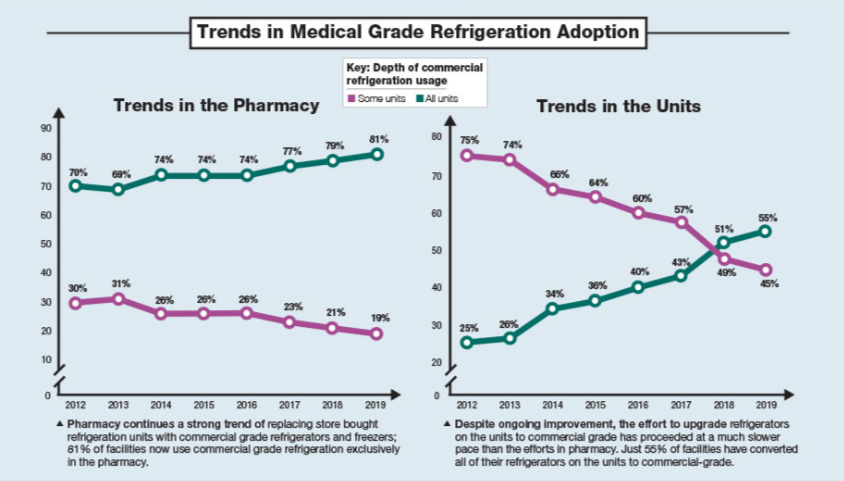 Guidelines and recommendations set forth by the Centers for Disease Control and Prevention (CDC) (Joint Commission standards reference the CDC guidelines) are driving the adoption of medical-grade refrigeration across the healthcare continuum.
The CDC Vaccine Storage & Handling Toolkit provides guidance on appropriate vaccine storage equipment and procedures based on recommendations from the Advisory Committee on Immunization Practices, scientific studies, and information from vaccine manufacturers.
The toolkit was last updated in January of 2020 and now includes detailed definitions around refrigerator types. This information is designed to help decision makers purchase purpose-built refrigerators and freezers that provide superior temperature stability and control.
Other Blogs You Might Be Interested In...
It is evident that the results of the PP&P survey indicate that pharmacists recognize that medications and vaccines require reliable, high performance, medical-grade refrigeration to ensure the safety and efficacy of stored product.
The survey results reinforce the tremendous growth and adoption of medical-grade refrigeration in the healthcare landscape in the central pharmacy as well as on patient floors.
To learn more about medical-grade refrigeration, head to our pharmacy product page at the link below.