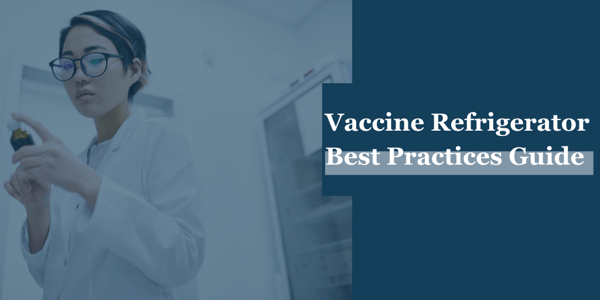 The Centers for Disease Control (CDC) has detailed recommendations around the selection and operation of your vaccine refrigerators and freezers. To follow best practices for vaccine storage and handling, there are many important design factors to consider.

Inside of the Vaccine Storage and Handling Toolkit, the CDC describes varies types of refrigerators which can be used to store vaccines. As defined by the CDC, types of refrigerators include dormitory-style (bar-style), household-grade, portable, purpose-built/pharmaceutical-grade, and stand alone.
The CDC recommends the use of purpose-built or pharmaceutical-grade units designed to either refrigerate or freeze. These units can be compact, under-the-counter style or large upright refrigerator units. Purpose-built units, sometimes referred to as "pharmaceutical-grade" are designed specifically for storage of biologics, including vaccines.
The following checklist will help ensure all critical aspects are considered when selecting a unit for vaccine storage:
Unit has enough space to accommodate your maximum inventory without crowding
Microprocessor-based temperature control with a digital temperature sensor (thermocouple, resistance temperature detector [RTD], or thermistor)
Built-in digital data loggers with an electronic interface that will allow you to track the continuous temperatures and/or provide min/max temperatures
Fan-forced air circulation with powerful fans or multiple cool air vents promoting uniform temperature and fast temperature recovery from an out-of-range temperature.
Safeguards to ensure the doors of the unit remain closed. For example, self-closing door hinges, door alarms, or door locks
Certificate of calibration for probes and/or sensors
Testing and temperature mapping for uniformity, recovery and stability
Additional Considerations
Although these features are not outlined in the CDC Vaccine Storage and Handling Toolkit, they are important to consider when making an investment in vaccine refrigerators and freezers.
Designed and built by an FDA GMP and ISO 13485 compliant manufacture of medical devices
Low Global Warming Potential for sustainability initiatives
Minimal heat output to help maintain HVAC systems
Low operating decibels for a quiet staff and patient environment
It is crucial for your facility to have proper vaccine cold storage that is set up correctly, monitored accurately, maintained appropriately, and repaired as needed. This equipment protects patients from inadvertently receiving compromised vaccine and your facility against costs of re-vaccinating patients, replacing expensive vaccines, and losing patient confidence in your practice.
Other Blogs You Might Be Interested In...
Download the printable version of this Vaccine Storage Best Practices Guide in checklist format at the link below.