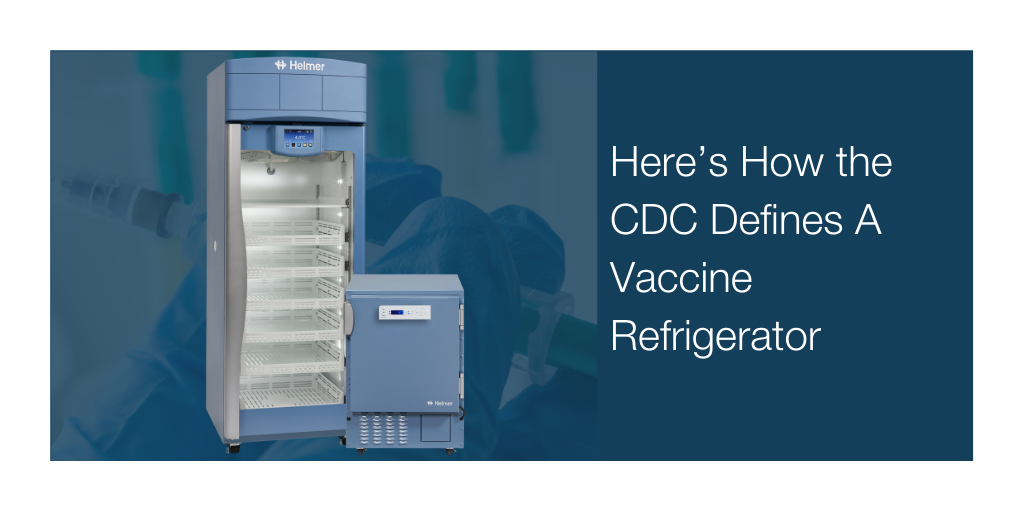 The CDC recommends the use of purpose-built or pharmaceutical-grade units designed to either refrigerate or freeze. These units can be compact, under-the-counter style or large upright refrigerator units. Purpose-built units, sometimes referred to as "pharmaceutical-grade" are designed specifically for storage of biologics, including vaccines. For a long time, there has been confusion around what makes a vaccine refrigerator a vaccine refrigerator.
In the updated 2020 CDC Vaccine Storage and Handling Toolkit, the CDC has added specific definitions for every style of refrigerator that is available on the market including dormitory units as well as pharmaceutical-grade units. When purchasing your vaccine refrigerator, it is important to keep these definitions in mind.
The definitions below are directly from the 2020 CDC Vaccine Storage and Handling Toolkit
Dormitory-style (bar-style) storage unit
A combination refrigerator/freezer unit with one exterior door and an evaporator plate (cooling coil), which is usually located inside an icemaker compartment (freezer) within the refrigerator. These units have been shown to pose a significant risk of freezing vaccines, even when used for temporary storage.
Household-grade storage unit
A storage unit that is primarily sold for home use
Portable Vaccine Storage Unit
A type of powered refrigerator or freezer unit specifically designed for use during vaccine transport. These are passive units that require a power source to function. Please note that some active units are "qualified" to maintain desired temperatures for a set amount of time in the event of a power loss.
Purpose-built /pharmaceutical-grade units
Units that are specifically designed to store vaccines.
Stand-alone storage unit
A storage unit that operates independently of any other device or system for its desired function (i.e., a refrigerator that only functions as a refrigerator or a freezer that only functions as a freezer).
Other Blogs You Might Be Interested In...
It is crucial for your facility to have proper vaccine cold storage that is set up correctly, monitored accurately, maintained appropriately, and repaired as needed. This equipment protects patients from inadvertently receiving compromised vaccine and your facility against costs of re-vaccinating patients, replacing expensive vaccines, and losing patient confidence in your practice.
Helmer Scientific provides a full range of refrigerators and freezers designed specifically for storing temperature sensitive pharmaceuticals and vaccines. To learn more, follow the link below.