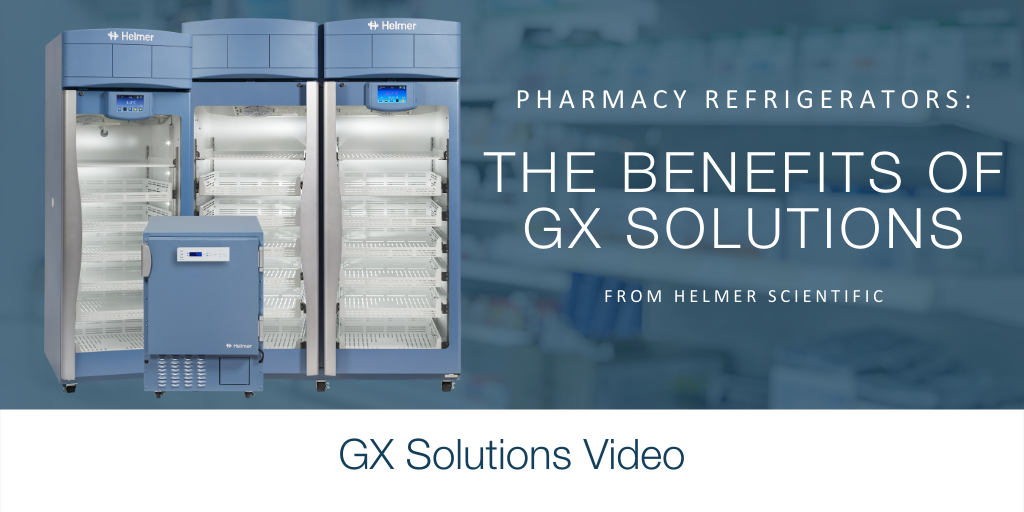 Helmer Scientific recently introduced the new line of GX Solutions pharmacy refrigerators. GX Solutions are designed specifically for the storage of critical products such as medications and vaccines.
They are the first professional medical-grade refrigerators to hit the market. A professional medical-grade refrigerator is defined by a combination of energy, temperature, and noise management.
GX Solutions are powered by OptiCool Technology. OptiCool technology pairs variable speed compressors with natural hydrocarbon refrigerators creating a system that provides optimal:
Temperature Uniformity:

All points in the cabinet have consistent temperatures

Temperature Recovery:

Cabinet quickly returns to set point after door openings

Temperature Stability

: Meaning temperatures remain consistent over time
Energy Efficiency
OptiCool technology allows the professional medical-grade refrigerators to be extremely energy efficient. GX Solutions are 50-60% more energy efficient that traditional medical-grade refrigerators. In addition, GX Solutions are also Energy Star Certified within the high-performance laboratory category.
Supporting Sustainability
GX Solutions are designed to support global sustainability initiatives by replacing HFC refrigerants with natural hydrocarbon refrigerants. Hydrocarbons significantly reduce the refrigerators Global Warming Potential (GWP).
Quiet Operation
GX Solutions are designed to operate very quietly for a more comfortable patient and work environment. These units are up to 3X quieter than traditional medical-grade refrigerators making them ideal for locations within the pharmacy or hospital that need to limit noise.
Other Blogs You Might Be Interested In...
GX Solutions provide professional medical-grade refrigerators for the most demanding pharmacy applications. With superior temperature uniformity, recovery and stability you can rest assured that medications and vaccines are being stored under the appropriate conditions across the hospital system. For more information on GX Solutions, please visit the link below.