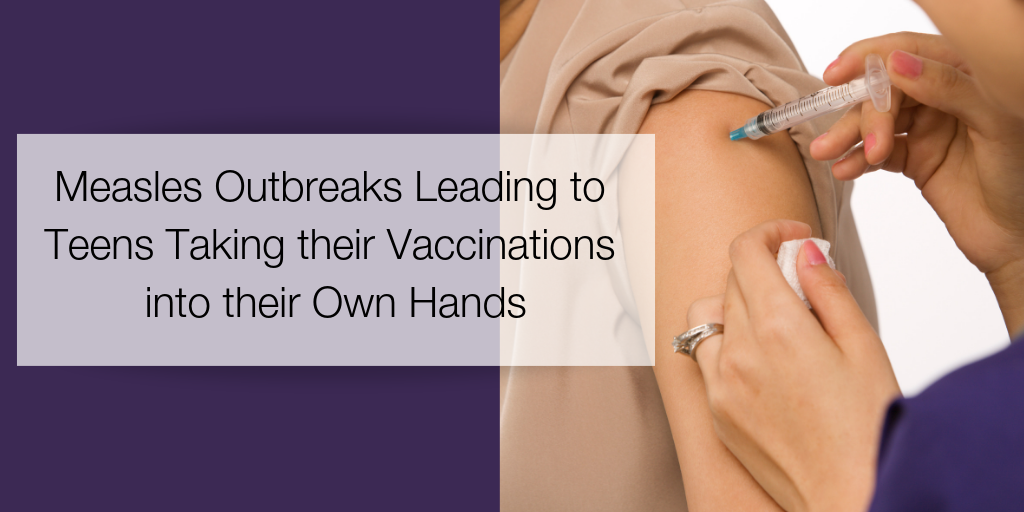 Measles was declared eliminated (absence of continuous disease transmission for greater than 12 months) from the United States in 2000. This was thanks to a highly effective vaccination program in the United States, as well as better measles control in the Americas region (CDC). And now, the United States is facing intense measles outbreaks which are also happening across the globe. Could this somehow be related to the increase in parents choosing to not vaccinate their children?
Some teens with anti-vaccination parents are starting to do their own research. Teens who were not vaccinated are questioning why their parents wouldn't have protected them from the many dangerous and deadly vaccine preventable diseases.
An article in The Washington Post shared a story about an Ohio teen named Ethan Lindenberger, who was not vaccinated due to his parents' beliefs. Lindenberger has been speaking out about his own choice to get vaccinated now as a teenager.
He posted on the popular social platform, Reddit asking for advice on how to get vaccinations when his parents won't allow them, and the post went viral with over 1,200 comments, including advice from a nurse. However, Lindengerger had to wait until he was 18 to receive vaccines without his parent's consent. Each state has laws that affect how minors can pursue their own medical interests, and most states do not allow anyone younger than 18 to pursue medical care without guardian approval, including vaccinations.
Lindenberger told a Post reporter that he had been questioning his parent's decision not to vaccinate for many years. His mother was a passionate anti-vaxxer posting articles on social media, but he decided to do his own research. CDC studies and scientific journals helped Lindenberger understand the importance of vaccines along with debunking many of the antivaccination rumors. He expressed great concern for his younger, unvaccinated sister as very small children are at a much greater risk of death from contracting the measles (Post).
There is legislation in every state which requires vaccines for schooling. All 50 states grant exemptions for medical reasons, 17 states allow philosophical exemptions ,and all states except California, Mississippi, and West Virginia have religious exemptions. However, there is growing debate around the idea of religious and philosophical vaccine exemptions (Pharmacy Times).
In the United States, at least 79 cases of measles have been reported this year (2019). Measles have been confirmed in ten different states. The states that have reported cases to Centers for Disease Control and Prevention (CDC) are California, Colorado, Connecticut, Georgia, Illinois, New Jersey, New York, Oregon, Texas, and Washington. Measles outbreaks are directly related to an increase in the number of travelers who get measles abroad and bring it into the U.S., and/or further spread of measles in U.S. communities with pockets of unvaccinated people.
"Measles is exquisitely contagious. If you have an under-vaccinated population, and you introduce a measles case into that population, it will take off like a wildfire," Clark County Public Health Director Alan Melnick said (Post).
Pharmacists and healthcare providers can do their part by properly educating parents on the importance of immunizations as well debunking the many myths and rumors floating around the Internet. Providers should guide parents to reputable vaccine resources such as the Centers for Disease Control (CDC). Helmer Scientific has a two-part blog series on dealing with antivaccination parents. You can find links to both articles below:
A Clinician's Guide to the Anti-Vax Parent's Most Burning Questions (Part 1)
A Clinician's Guide to the Anti-Vax Parent's Most Burning Questions (Part 2)
Many of the anti-vaccination parents are simply worried. It doesn't help that they have little faith in some of the most credible sources when it comes to vaccine information. Websites and Facebook stories continue to instill fear. Clinicians must be ready to answer tough questions about vaccines, and why they are important not only to the health of the child, but to the health of the public.
Is your office storing and administering vaccines? Download The Ultimate Guide to Vaccine Storage by following the link below.
Other Blogs You Might Be Interested In...