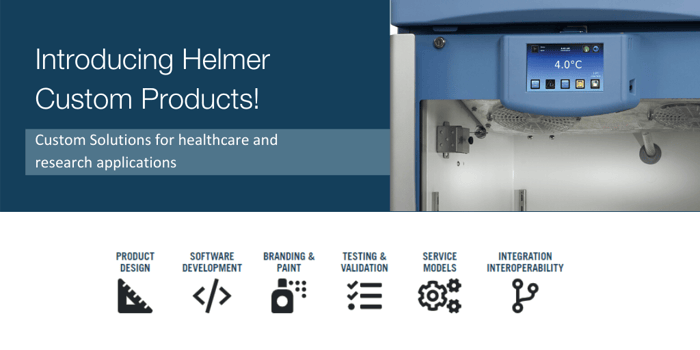 Helmer Scientific provides temperature-controlled solutions designed to safeguard products used as part of life science discovery and clinical applications. Products such as medications, vaccines, blood therapies, biologics, and research samples, are temperature sensitive, highly regulated, expensive, and sometimes irreplaceable.
Our standard products are designed to meet the needs of these demanding applications, however, we do receive special requests for custom solutions that are very specific to a facility's requirements. Using our organizational competencies related to integration/interoperability, software development, design, testing/validation and manufacturing we have partnered with customers to create new, specialized and custom solutions. Due to the popularity of these product initiatives, Helmer is pleased to announce that we now have a Custom Products team ready to support additional requests from organizations seeking custom solutions.
Examples of these types of requests include:
Security and Integration enhancements: Helmer has integrated medical-grade temperature-controlled devices with third-party systems and applications. Projects have allowed customers to control integrated refrigerator locks via software API or by using existing access systems, such as badge readers already in place at the facility. In addition, we have developed refrigerated secure-access bin technology to help customers enhance security, control, and tracking of medications and blood therapies.
Specialized Storage Configurations: Helmer offers a variety of standard internal storage configurations, including shelves, stainless steel drawers, ventilated pharmacy drawers, and baskets. Through our Custom Products team, we have been able to create additional internal storage tailored for specific use cases and applications. Primary examples include developing custom storage drawers and dividers designed around a specific product package size to better support organization and inventory management.
Testing and Validation Services: Leveraging our R&D center and our ISO13485 Certified, FDA GMP compliant manufacturing operations, we have been able to satisfy requests to test and validate equipment prior to shipment according to facility-specific standard operating procedures. Custom testing and associated validation is available across product lines and applications.
Cosmetics and Customer Branding: We have the ability to color-match exterior finishes and paint equipment accordingly through our Custom Products team. In addition, with Helmer marketing approval, we are able to add company logos/branding to equipment via Custom Products.
Ambient & Room Temperature Controlled Cabinets: Through our custom products team we can offer full-size ambient pass-thru cabinets (in addition to our standard refrigerated pass-thru products) that allow technicians to manage high volumes of products in a space that is accessible by clean and non-clean sides of a room. We have also developed Controlled Room Temperature (CRT) cabinets through the Custom Products team. These specialized storage cabinets are designed for the storage of medications that must be stored at room temperature in situations where HVAC systems are unreliable or not controlled by the pharmacy.
At times, custom projects have an appeal to a larger audience and transition from a custom offering to a commercially available product. One example is our Solid Ballast Simulator which is a maintenance-free replacement for standard glycol bottles used to ballast temperatures in medical-grade refrigerators and freezers. A second example includes our Refrigerated Pass-thru products with electronic interlocking doors. These units are designed to enhance clean room practices by preventing doors on both sides of the pass-thru from being opened simultaneously.
These are some examples of the projects we have completed in the past; we are always interested in discussing additional opportunities to partner with our customers! For additional information on Helmer Custom Products or to make a Custom Product inquiry, please use the link below.
OTHER BLOGS YOU MAY BE INTERESTED IN...