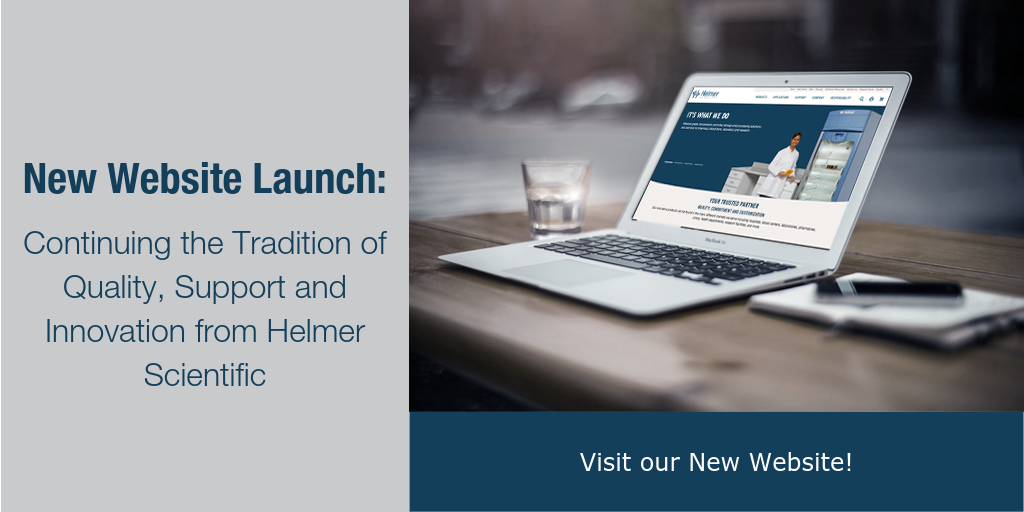 Helmer Scientific announces the launch of a brand-new website. Designed with feedback from customers, the new, dynamic Helmer Scientific website aims to provide best-in-class support: an optimized user-friendly experience with streamlined navigation, advanced product selection capabilities, and a robust knowledge center.
Designed with Our Customers in Mind
Internal and external stakeholders, and most importantly, our customers, provided invaluable feedback during the website design process. The goal was to provide a seamless customer experience, from industry/product research to solution delivery. We spoke to various customers from the blood bank, laboratory and pharmacy to gain insight on how their experience could be improved. This feedback was essential in ensuring the highest standards in performance, functionality and support were met.
Product Selection & Comparison Tool
Many guidelines and regulations are a factor in choosing the right equipment. To simplify the product selection process, we've introduced an innovative product comparison tool. This tool allows you to sift through hundreds of products based on your exact needs through product type, product size, product application and product feature filters.
Whether you are looking for a platelet agitator or a pharmacy refrigerator, the product comparison tool will effectively narrow your search saving time and energy. In addition, multiple products can be compared simultaneously through an intuitive side-by-side layout which compares key features and helps you make an informed product selection.
All New Knowledge Center
We've introduced an all-new support resource full of rich educational content. Users can efficiently and effectively learn more about industry best practices, watch intuitive how-to and product videos or read in-depth case studies and white papers. Applicable filters and an advanced search bar help deliver tailored results allowing users to quickly find what they need. These convenient tools work together to streamline the customer research experience.
Check out the new Helmer Scientific website on mobile, tablet or desktop by visiting www.helmerinc.com!
Other Blogs You Might Be Interested In...