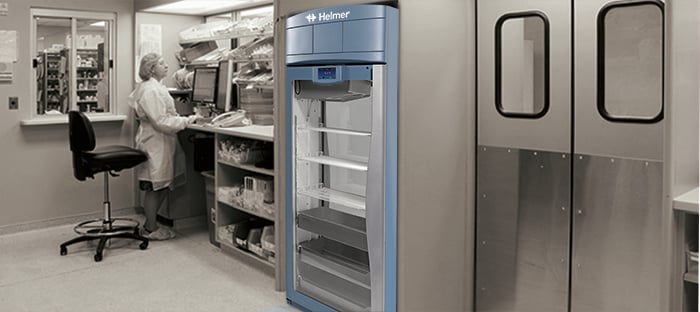 USP <797> details the procedures and requirements for compounding sterile preparations and sets standards that are applicable to all practice settings in which sterile preparations are compounded. The goal of this chapter is to help prevent patient harm from inaccurate or contaminated compounded sterile products (CSPs). Since the standards became official, they have been widely adopted, are enforced by many state boards of pharmacy, and may be surveyable by accreditation organizationsWorkflows in and around USP <797> clean rooms are essential to preventing contamination and maintaining a clean and safe environment for compounding sterile preparations. The process for technicians to garb personal protective equipment (PPE) to pick up finished product and transport it out of the cleanroom is time consuming, expensive, and potentially unsafe. Technicians are required to garb every single time they enter the room, which leads to lost time and a very high level of PPE usage. Limiting the individuals who are required to enter the clean room prevents chances of contamination.
The use of wall mounted pass-thru cabinets have proven helpful when technicians are transferring single doses outside of the cleanroom, however, these small cabinets presented a challenge when trying to transfer out full 24 hour batches. Technicians have to don PPE and enter the clean room with a cart in order to pick up and transfer out large batches which introduces unnecessary contamination into the clean room environment.
Pass-thru refrigerators are the perfect solution for improving the USP <797> clean room workflow. Here are some of the benefits of having a pass-thru refrigerator for your USP <797> clean room:
Cleaner, safer environment with less risk of contamination
Less foot traffic in and out of the cleanroom
Easily transport of inventory and finished products
Easily transport inventory and finished products or Easy transport of inventory and finished products
Eliminate dirty carts entering the clean room
Dramatically reduced use of PPE with less technicians entering the clean room
Pass-thru refrigerators allow clean room technicians to place large batches into the refrigerator without leaving the clean room. Outside technicians can then access the batches located in the refrigerator via the main pharmacy area without having to don PPE, saving on PPE expenses. Moreover, this means less foot traffic and no cart traffic in and out of the clean room leading to a more controlled environment.
Interested in improving your clean room workflows? Learn how our customer implemented three Helmer pass-thru refrigerators in their latest clean room remodel.