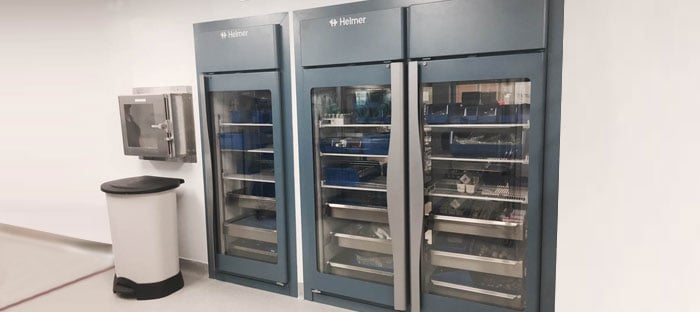 Ephraim McDowell Regional Medical Center, a 222 bed non-profit hospital located in Danville, Kentucky, recently completed a major central pharmacy improvement project. This project was designed to increase pharmacy efficiency and enhance workflows related to moving products prepared in their IV preparation USP 797 cleanroom.
The workflow analysis at Ephraim McDowell Regional Medical Center revealed high technician traffic moving inside and outside of the cleanroom environment. "Our process was very time consuming for technicians. Technicians were required to garb PPE every time they needed to pick up product from inside of the cleanroom," stated Joan Haltom, Director of Pharmacy. "Not only was this time consuming, but it was also very expensive for the pharmacy due to the intense use of PPE. We had to rethink the overall process."
The use of wall mounted pass-thru cabinets were adequate when technicians were transferring single doses outside of the cleanroom, however, these small cabinets presented a challenge when trying to transfer out full 24 hour batches. These larger batches needed to be stored temporarily in the pharmacy before making their way to the floors. Technicians were forced to enter the clean room with carts in order to transfer out the batches. A new process was required that would allow large batches to be transferred out of the cleanroom without requiring additional technicians or carts to enter the cleanroom environment.
In order to address the challenges related to transferring 24 hour supply batches out of the cleanroom, Ephraim McDowell Regional Medical Center installed a series of pass thru cabinets and Helmer Scientific pass-thru refrigerators from Midwest Medical and Carter Health. After products are prepared and checked-in from the cleanroom, large batches are placed in bins and stored in the pass-thru Helmer Scientific units where technicians can retrieve and load large batches onto carts without garbing PPE or entering the clean room environment. The pass-thru modules have made a major impact on the central pharmacy by allowing for safer and more efficient transfer of large batches from the clean room environment to the outside area.
Challenges had to be overcome as the pharmacy reconfigured their clean rooms. The Ephraim McDowell Pharmacy had to ensure air exchanges remained in compliance with USP 797, which can be particularly difficult in older buildings. The pharmacy also had to analyze and determine which items once located in the cleanroom could be stored outside of the cleanroom to help minimize traffic. In addition, with the new pharmacy layout, frequent service or replacement of the pass-thru refrigerators would not be tolerated as it would result in temporarily shutting down clean room processes. For this reason, selecting pass-thru refrigerators designed for long-term quality and reliability was critical.
Congratulations to the Ephraim McDowell Regional Medical Center for completing their Continuous Improvement project. This pharmacy team has successfully improved technician workflow and overall efficiency, while maintaining compliance with USP 797.
For more information on our Helmer Scientific pass-thru refrigerators, please visit us at www.helmerinc.com. For more information on pharmacy remodeling and consultation used in this project, please visit Midwest Medical at www.midwestmedical.us and Carter Health at carter-health.com.