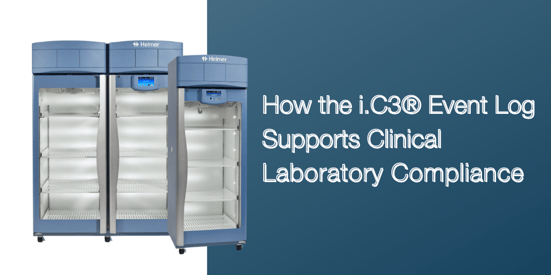 When you're storing sensitive reagents and specimens, it is critical to constantly monitor temperature in order to safeguard the integrity of the stored items. The i.C3® Information Center is integrated into i.Series® laboratory refrigerators and freezers from Helmer Scientific. It continuously monitors the temperature inside the cabinet and enables users to check the status of the unit with a quick glance at the Home screen.
The i.C3® helps support clinical laboratory compliance with regulations for storing reagents and patient samples. The College of American Pathologists (CAP) All Common Checklist provides guidance on storing these items. Reagents, for example, need to be stored according to manufacturer's instructions, and the temperature must be monitored daily.
The CAP All Common Checklist also calls for evidence of corrective actions taken in the event of a temperature excursion outside of the acceptable range. This includes an evaluation for adverse effects, checking the quality of reagents, controls, and calibrators prior to use, and retaining records.
The i.C3® Information Center includes an Event Log that helps support these requirements. The Event Log includes event acknowledgement functionality, which enables users to record the cause of an alarm and the corrective action taken. This record is captured along with a signature, date, and timestamp. The Event Log can be downloaded, providing the laboratory with documentation of alarm events and corrective actions.
A series of videos has been created to demonstrate the features of the i.C3® Information Center. The video below provides a demonstration of the Event Log functionality included in the i.C3®.
Other Blogs You Might Be Interested In...
Helmer Scientific supports clinical laboratories, the patients they serve, and their efforts to ensure accurate test results. We would like to express our gratitude to all staff involved in the diagnostic testing that is critical for treating patients and saving lives. We are here to help you properly store your reagents and patient specimens.
Watch our video for a demonstration of the i.C3® Event Log, and look for additional videos that will illustrate the major functions of the i.C3® Information Center.