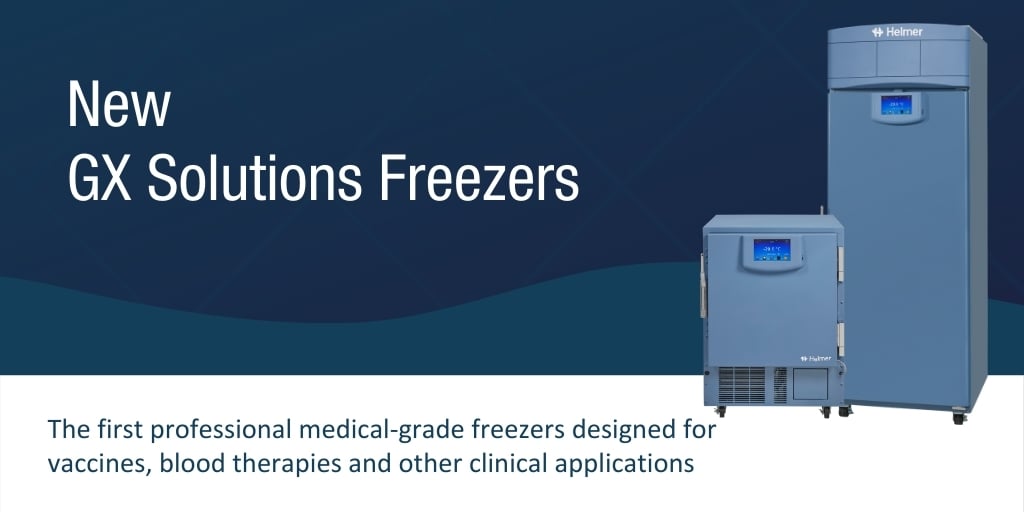 Helmer Scientific is pleased to announce the launch of GX Solutions Laboratory and Plasma Freezers for vaccines, medications, blood therapies, and sample storage. Powered by OptiCool™ technology GX Solutions are the first professional medical-grade freezers that are optimized for critical healthcare applications through temperature performance, noise reduction, and decreased energy use, while also using low Global Warming Potential (GWP) technology to support environmental sustainability.Temperature performance is critical to quality and compliance for clinical applications. GX Solutions Laboratory and Plasma Freezers excel in three key temperature management areas: uniformity, recovery, and stability.
Achieving tight temperature uniformity throughout all storage locations within the unit helps ensure that clinical products, vaccines, therapies, or samples are stored within the required temperature ranges. In addition, GX Solutions are designed to recover quickly after frequent or prolonged door openings that are common in busy healthcare settings. These units also maintain temperature stability using variable-speed compressor technology to limit overall temperature deviations, safeguarding sensitive clinical and scientific products.
In addition, new GX Solutions freezers have been designed to meet temperature performance requirements as included in a new and emerging NSF vaccine storage standard. This emerging standard will help indicate which vaccine refrigerators and freezers meet recommended temperature performance attributes that maintain vaccine safety. The new NSF standard is expected to be approved in 2021.
GX Solutions performance characteristics are achieved using OptiCool™ technology which pairs a variable capacity compressors (VCC) with natural refrigerants. In addition to energy efficiency, this technology uses refrigerants that protect the ozone layer and eliminates the use of refrigerants with high Global Warming Potential (GWP).
"We are very excited to continue our transition to GX Solutions through the launch of new medical-grade freezers," said Heather Barry, Product Manager. "Our specialized laboratory and plasma freezers will safeguard life-saving therapies used in the fight against COVID-19, including Convalescent Plasma and new COVID-19 vaccines that require frozen temperature storage. Helmer Scientific is proud to support our healthcare customers with new and innovative solutions that support delivering care to patients."
Helmer Scientific GX Solutions are available in upright and undercounter pharmacy, blood bank and laboratory refrigerator models, as well as laboratory/vaccine and plasma upright and undercounter freezer models. For complete information, please read our press release.
OTHER BLOGS YOU MAY BE INTERESTED IN...