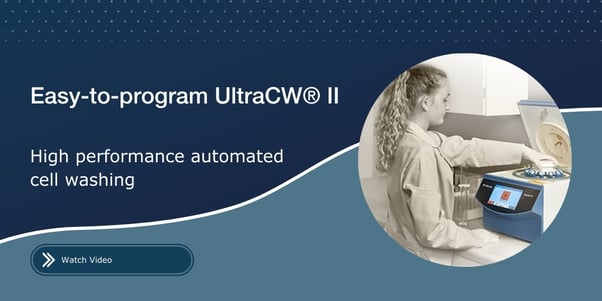 The UltraCW® II Automatic Cell Washing System features programmability that is flexible and intuitive. New programs can easily be created on the full-color touchscreen. The pre-set programs can also be edited, enabling them to be fine-tuned to your facility's needs.
Each program consists of a series of processes, typically incorporating fill, spin, decant and agitation steps. A loop process is also available, enabling previously programmed steps to run multiple times (without having to program them individually).
A check step can also be incorporated into programs. The check step makes it easy to run wash cycles, add reagents, and then perform a quick spin. This means that all spin steps can be completed as part of an in-line process, rather than having to run multiple programs or transfer tubes to a different centrifuge for spinning.
The UltraCW® II Cell Washer takes high performance automated cell washing to the next level. Watch our demonstration video to learn more about the intuitive programming capabilities of the UltraCW® II.
OTHER BLOGS YOU MIGHT BE INTERESTED IN...
Helmer Scientific supports blood centers and hospitals, the patients they serve, and their efforts to keep the blood supply safe. We would like to express our gratitude to all staff involved in collecting, processing, and transfusing blood therapies to treat patients and save lives. We are here to help you properly store and process your blood products.
Contact our sales team for more information on the UltraCW® II.