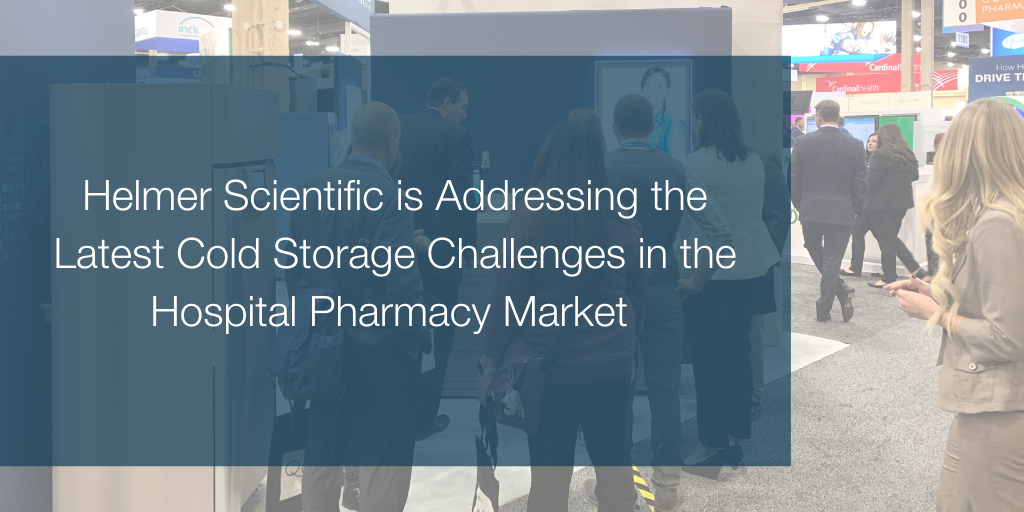 Last week, Helmer Scientific joined over 25,000 hospital pharmacists at the Annual ASHP Midyear Meeting and Exhibition. The meeting provided valuable opportunities for professional development, networking, enhancing practice skills, and staying current with the latest products and innovations.
As an exhibitor, Helmer used the valuable face-to-face interactions to better understand the challenges hospital pharmacists face when it comes to pharmaceutical-grade refrigeration and the safe and secure storage of refrigerated drugs. We take the feedback collected at these meetings very seriously in hopes to better serve you and the market at whole.
Helmer would like to personally thank all of those who were able to stop by the Helmer Scientific booth. If you were not able to visit the booth, we would love to bring the experience to you online. Here's what we displayed and discussed at our exhibit:
The Market's First Refrigerated Secure Access Solution
The industry-first BD Pyxis™ ES Refrigerator with Helmer Access Technology features precise temperature management and secure locking bins accessed only via the BD Pyxis™ MedStation™ ES. This enhances care by supporting medication safety, clinical workflow efficiency and regulatory compliance, while helping to reduce waste and mitigate the risk of diversion of refrigerated medications.
Helmer Scientific's New, Market-leading Technologies - GX Solutions
Professional medical-grade refrigerators are designed with the unique needs of the healthcare environment in mind. Only professional medical-grade refrigerators deliver optimized control in three important areas including temperature, noise, and energy management while maintaining superior temperature uniformity, stability and recovery.
The Markets Only Interlocking Pass-thru Refrigerator
To assist pharmacies in meeting USP <797> regulations, Helmer Scientific developed the market's first interlocking pass-through refrigerator. The Interlock Pass-Thru refrigerator is designed for use in the pharmacy and clean rooms which are built for USP <797> compliance. The i.Lock™ technology allows doors on one side of the pass-through cabinet to electronically lock when doors on the opposite side are opened.
USP <797> Driving Pharmacies to Bring Sampling in-house
The team had many requests for pharmacy incubators to be used for glove-fingertip and surface sampling incubation. If this is something you are currently in the market for, please get in touch with us at mschroeder@helmerinc.com. We would love your insight and expertise on what is driving the need for pharmacy incubators.
Desire for a Patient Specific Medication Management Solution for Refrigerated Meds
In addition, many pharmacists expressed the challenge that comes with managing refrigerated patient specific medication on patient floors. If this is a challenge you currently face, Helmer would love to solicit your feedback. Please send a message to mschroeder@helmerinc.com to get in touch on this subject.
Other Blogs You Might Be Interested In...
We look forward to helping meet your pharmacy needs now and into the future. Thank you for your ongoing feedback and continued support at ASHP and beyond. If you have any questions, or requests, please feel free to contact Helmer Scientific at the link below.