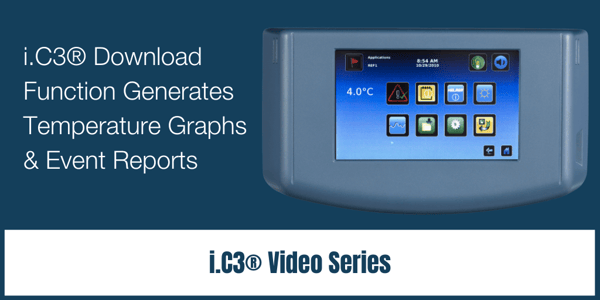 It is essential that blood products be stored within the proper temperature range. To ensure this, AABB Standard 3.6.2 states that, "Storage temperatures of refrigerators, freezers, and platelet incubators shall be monitored." i.Series® blood storage products from Helmer Scientific feature the i.C3® Information Center. The i.C3® provides functionality that helps blood banks meet regulatory requirements.
The i.C3® supports compliance by monitoring the temperature inside a refrigerator, freezer, or incubator and generating alarms if the temperature rises above or falls below the acceptable range. In addition, the i.C3® stores temperature data and an event log. An important feature of the i.C3® is the ability to download this information via USB.
The download function gives users the ability to download files in PDF format or as CSV data files. The PDF download provides temperature graphs and event history reports. This functionality is easy to use and automatically generates the graphs so there is no need for users to create them. Data files can also be downloaded in CSV format, including up to 10 years of temperature and event history.
In either format, the downloaded event log provides a record of all alarm events, including automatic alarm tests. The College of American Pathologists (CAP) requires that blood banks be able to clearly show the temperature at which the alarm activated during an alarm test. Downloading the event log provides blood banks with an electronic record that supports compliance with this requirement.
A series of videos has been created to demonstrate the features of the i.C3® Information Center. The video below provides a demonstration of the download functionality included in the i.C3®.
Other Blogs You Might Be Interested In...
Helmer Scientific supports blood centers and hospitals, the patients they serve, and their efforts to keep the blood supply safe. We would like to express our gratitude to all staff involved in collecting, processing, and transfusing blood therapies to treat patients and save lives. We are here to help you properly store and monitor your blood products.
Look for additional videos that illustrate the major functions of the i.C3® Information Center on our BlueView blog.