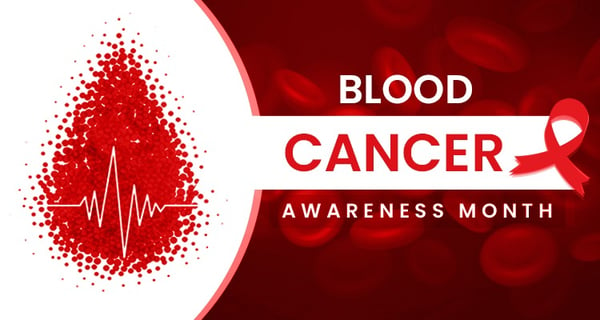 Blood Cancer Awareness Month occurs every year in September, helping raise awareness and improve understanding of blood cancers. It is also a time to honor patients who are currently battling blood cancer and those who are in remission.
Treatments for blood cancers have advanced over the years, improving survival rates, but there is still a long way to go. Blood Cancer Awareness Month is essential to fundraising efforts that support life-saving research. Since the mid-1970s, survival rates have improved because of this ongoing endeavor.
There are three main types of blood cancer: leukemia, lymphoma, and multiple myeloma. These are cancers of the blood, bone marrow, or lymph (the fluid that circulates white blood cells throughout the body). While most types of cancer form solid masses called tumors, blood cancers are different. They cause the uncontrolled growth of mutated disease-fighting cells, making it difficult for the body to defend itself from infection.
Treatments for blood cancer vary depending on the type and stage of the disease. These can include chemotherapy, targeted therapy drugs, radiation, stem cell transplants, and surgery.
Transfusions are also a form of therapy used to treat blood cancer patients. The disease process itself may interfere with the normal production of blood cells. In addition, treatments such as chemotherapy can impede blood cell production in the bone marrow and inhibit immune system functions.
Due to these factors, patients with blood cancer may develop a low red blood cell count (anemia) or a low platelet count (thrombocytopenia). In these cases, treatments such as red blood cell or platelet transfusions may be needed to support the patient until their blood counts are able to recover.
While transfusions do not target the blood cancer itself, they can provide healthy blood cells when the patient's body is unable to produce its own. Transfusions can also reduce the side effects of treatment. Blood transfusions, in general, reduce the risk of potentially severe complications that can occur due to low blood counts.
Other Blogs You Might Be Interested In...
Many blood cancer patients depend upon blood products to survive their illness. Blood donations are a way to recognize Blood Cancer Awareness Month and to support these patients throughout the year. Find out where to donate blood in your community, and call or visit their website to schedule an appointment. For donors in the U.S., AABB provides a Blood Donation Site Locator.