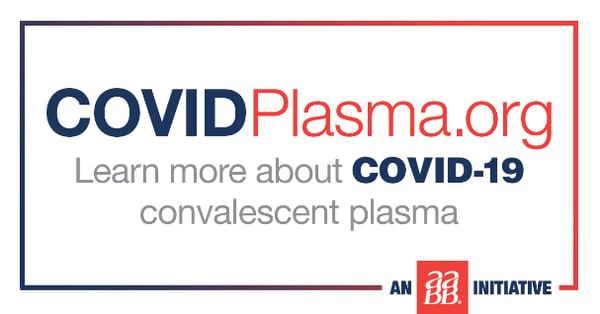 AABB has launched a website to serve as a resource for the public, clinicians, and blood collection facilities. It provides information on COVID-19 convalescent plasma (CCP). The new site, COVIDplasma.org, connects individuals who have recovered from COVID-19 to AABB-accredited blood centers. This will facilitate donations of convalescent plasma which can potentially improve the status of critically ill patients with COVID-19.
"The only source of COVID-19 convalescent plasma are donations from people who have recovered from COVID-19. Blood centers, hospital blood collectors, hospital blood banks and transfusion medicine services are making available the first widely available investigational therapy to treat patients who have moderate to severe COVID-19," said AABB President Beth Shaz, MD. "AABB is proud of the important role the blood community is playing to bring this important therapy from the donor to the patient. The provision of COVID-19 convalescent plasma is a fundamental step in assisting the recovery of patients with COVID-19 as the novel coronavirus continues to rapidly spread in the United States, affecting many lives. This therapy shows promise in its ability to save lives."
The new AABB website includes information about whether an individual is eligible to donate plasma for experimental treatment of patients with moderate to severe COVID-19. It includes a link to AABB's blood bank locator, a tool that identifies nearby blood centers or hospital blood collection sites. Individuals interested in donating convalescent plasma should reach out to a site in their area to learn whether donations are being collected at that facility.
The FDA has recently updated their recommendations for COVID-19 convalescent plasma donation. Previously, the guidance recommended complete resolution of symptoms for 28 days or resolution for 14 days plus a negative diagnostic test. Now individuals interested in donating CCP should have complete resolution of symptoms for at least 14 days prior to donation. A negative lab test is no longer required. These changes should help increase the pool of eligible donors for CCP.
Other Blogs You Might Be Interested In...
Helmer Scientific supports blood centers and hospitals, the patients they serve, and their efforts to keep the blood supply safe. We would like to express our gratitude to all staff involved in collecting, processing, and transfusing blood therapies to treat patients and save lives. We are here to help you properly store and monitor your blood products during the COVID-19 pandemic.
The AABB Blood Bank Locator connects individuals who may be eligible to donate COVID-19 convalescent plasma, or who would like to make a standard blood donation, to their closest collection site. To find out where to donate in your community, follow the link below.