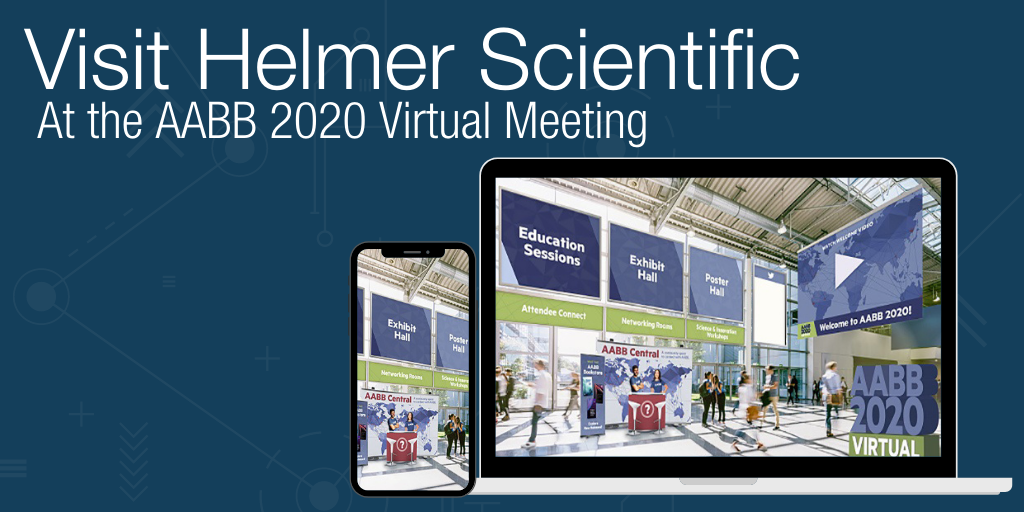 At Helmer Scientific, we are looking forward to our 41st consecutive year of exhibiting at the AABB Annual Meeting. Come visit our virtual booth during the online event, to be held October 3-5, 2020.
The 2020 AABB Annual Meeting will be an exciting and robust virtual meeting experience. More than 100 scientific sessions will be offered, both live and on-demand, on a variety of topics with continuing education credits available. There will be a virtual networking lounge where attendees can chat with speakers and fellow meeting participants. In addition, industry partners will showcase their products in a virtual hall and will be available for live chat during exhibit hours.
Helmer representatives will be available to talk with you about our products for blood storage and processing, including the most recent additions to our portfolio: Pro Line Platelet Storage and GX Solutions Blood Bank Refrigerators. Additional products include Plasma Freezers, Plasma Thawers, Ultra-Low Freezers, UltraCW® Cell Washer, and Centrifuges.
Other Blogs You Might Be Interested In...
Helmer Scientific designs, manufactures, and distributes medical-grade cold-storage and processing equipment to help our customers deliver the highest levels of patient care. With more than 40 years of experience, Helmer supports customers in blood centers and hospital blood banks in 125 countries.
Annual Meeting Exhibit Hours are: Saturday, October 3, 12:15 pm – 2:15 pm; Sunday, October 4, 12:15 pm – 2:15 pm; and Monday, October 5, 12:15 pm – 2:15 pm.
If you will be virtually attending the AABB Annual Meeting, we look forward to chatting with you in our virtual booth!