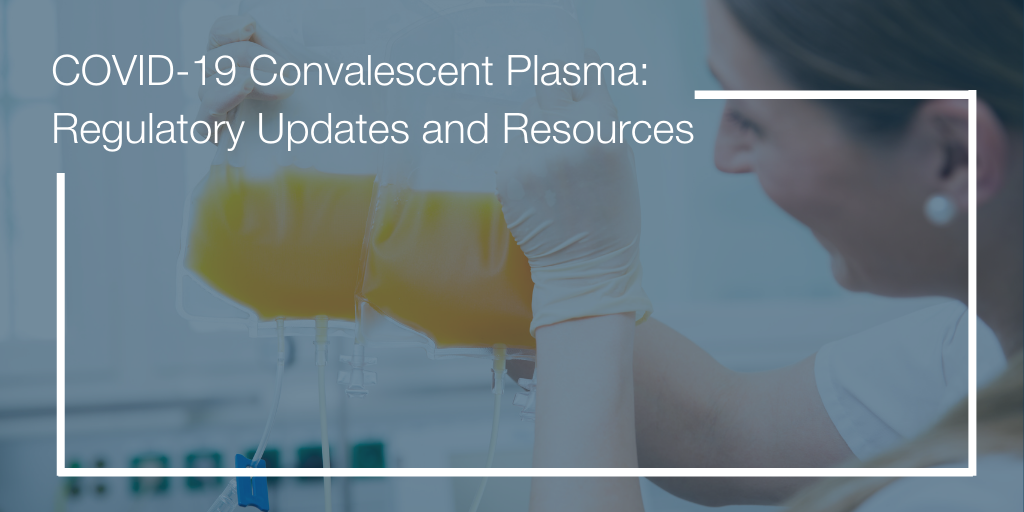 There have been several recent developments regarding the use of convalescent plasma as a treatment for COVID-19. The U.S. Food & Drug Administration (FDA) issued an emergency use authorization for COVID-19 convalescent plasma (CCP) in August 2020. Subsequently, the FDA published a final guidance document providing recommendations for the collection and use of CCP.
The guidance addresses:
Pathways for use of investigational convalescent plasma.
Collection of CCP under the EUA (emergency use authorization).
Collection of CCP under an IND (investigational new drug application).
Support of randomized clinical trials that will not be impacted by the release of the EUA.
The guidance supports access to CCP transfusion by permitting the use of the current inventory of investigational CCP collected prior to the EUA, without retesting or relabeling. It also recommends the following regarding manufacturing, labeling, and storage of CCP:
"The manufacturing process used and the expiration date on the label for investigational convalescent plasma should be the same as for other plasma products that are of the same type. For example, Convalescent Plasma, Fresh Frozen, should be frozen within 8 hours after collection, stored at -18ºC or colder and have an expiration date one year from the date of collection."
AABB has updated its CCP Toolkit to reflect the new information in the CCP guidance and comments shared by FDA. In addition, AABB issued a statement addressing the benefits of early CCP transfusion. The statement referenced recent findings that suggest CCP is most beneficial if high-titer units are transfused early in the course of the disease (within 72 hours of hospital admission).
Other Blogs You Might Be Interested In...
Helmer Scientific supports blood centers and hospitals, the patients they serve, and their efforts to keep the blood supply safe. We would like to express our gratitude to all staff involved in collecting, processing, and transfusing blood therapies to treat patients and save lives. We are here to help you properly store and monitor your blood products during the COVID-19 pandemic.
To learn more about freezers designed to store convalescent plasma as well as your regular plasma inventory, download the Best Practices Guide for Selecting Plasma Freezers.