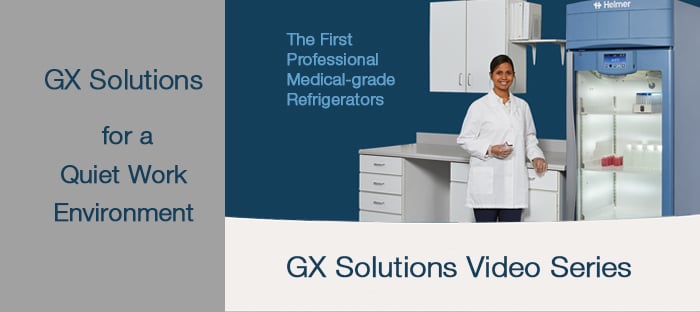 High sound levels in hospital settings are a common complaint among patients, staff, and visitors. A noisy environment can impede healing in patients and have negative effects on healthcare personnel. Reducing noise helps provide a more comfortable environment for patients and a more productive workplace for staff.
Conventional cooling technology has been used in medical-grade refrigeration for many years. While these systems achieve good results, they tend to generate more noise than newer approaches. Technological advances have been developed that now make it possible for medical-grade refrigerators to operate quietly while also achieving optimal temperature management.
GX Solutions professional medical-grade refrigerators are available from Helmer Scientific, a leading supplier of cold storage and processing equipment. GX Solutions utilize OptiCool™ Technology and are available in upright and undercounter models. They are designed for critical healthcare applications and offer optimized control in temperature management (uniformity, recovery and stability) along with quiet operation.
Watch our video, "GX Solutions for a Quiet Work Environment," to learn more about the benefits of reducing noise in a healthcare environment.
Other Blogs You Might Be Interested In...