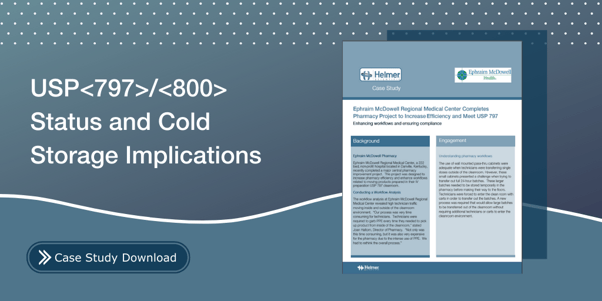 Since receiving appeals in 2019, implementation of revisions to USP <797> have been postponed until further notice. The revisions were initially published in June of 2019, and in accordance with USP's formal appeals process, stakeholders who submitted appeals on the compounding chapters have requested further review by an appointed Panel. USP's Bylaws provide that the official date of a standard under appeal must be postponed while an appeal is pending.
Now, a year and a half later and amid the COVID-19 pandemic, an implementation date has still not been announced. This delay has given hospitals and pharmacies more time to complete construction projects related to USP <797> and USP <800>. According to a recent survey conducted by Pharmacy Purchasing & Products magazine, 57% of facilities meet or exceed all requirements for the 2008 version of USP <797>. With the revised and still under review USP <797> changes from 2019, only 24% of facilities meet or exceed all requirements. About half of facilities surveyed reported that they meet most requirements.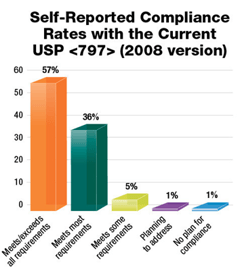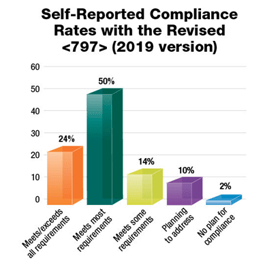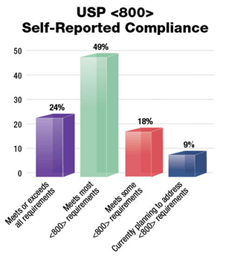 While the appeal of USP <797> means adoption of USP <800> is informational and not compendial applicable, it is still in the best interest of public health that hospital systems utilize USP <800>. In another study conducted by PP&P magazine, 49% of facilities reported they meet most USP <800> requirements, while 24% said they meet or exceed all requirements.
USP Cold Storage Requirements
Due to the interdependence of the various rooms or areas that make up a compounding facility, it is essential to carefully outline and control the dynamic interactions permitted between areas and rooms. As described in USP <797>, a pass-through is defined as an enclosure with seals on interlocking doors that are positioned between two spaces for minimizing particulate transfer while moving materials from one space to another. USP <797> states that if a pass-through is used, it must only be opened one door at a time; both doors must never be opened at the same time. The i.Lock™ technology from Helmer Scientific forces the electronic lock to engage on one side of the pass-thru cabinet when doors on the opposite side are open. Therefore, prohibiting both sides of the refrigerator from being open simultaneously.
As stated in USP General Chapter <800>, refrigerated antineoplastic hazardous drugs (HDs) must be stored in a dedicated refrigerator in a negative pressure area with at least 12 air changes per hour (ACPH). Ensure that the refrigerator storing your antineoplastic HDs provides optimal temperature uniformity, stability and recovery. This keeps your valuable pharmaceuticals stored at precise temperatures to ensure efficacy and safety. Pharmaceutical-grade refrigerators will have a uniformity spec of +/-1 degree C.
Do not use a refrigerator pass-thru in your HD clean room. This is specific to negative pressure rooms. Other methods of containment should be used for transferring product in and out of the HD clean room. Positive pressure clean rooms may continue using pass-thru refrigerators to enhance clean room workflows and reduce foot traffic in and out of the clean room, therefore, reducing contamination risk. Helmer Scientific refrigerators do not impact your clean room environment. They are safe for the storage of drugs which require refrigeration inside the clean room.
OTHER BLOGS YOU MIGHT BE INTERESTED IN...
The impact of COVID-19 and appeals delays for USP <797> have led to most facilities being fully compliant or on their way to being fully compliant. With some time left before implementation, it's important to review both requirements to ensure your clean room and your refrigerator supports USP compliance. Download this case study at the button below to see how Helmer's Interlocking Pass-Through Refrigerators are helping one medical system increase efficiency.
Sources:
https://www.pppmag.com/article/2678/?search=usp%20compliance
https://www.pppmag.com/article/2537/?search=usp%20compliance