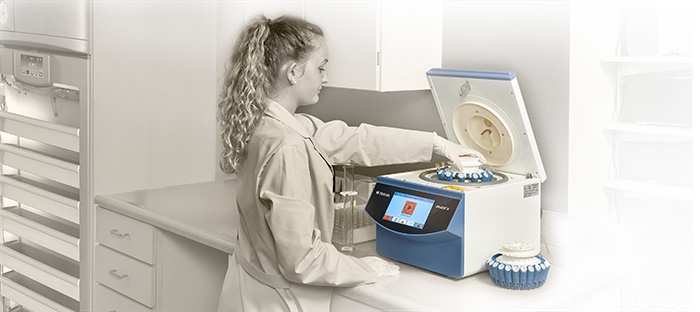 The UltraCW® II Automatic Cell Washing System from Helmer Scientific takes high performance automated cell washing to the next level with intuitive programming. Users can quickly and easily create in-line programs, completing all spin steps in the UltraCW® II.

The full-color touchscreen user interface means that the UltraCW® II is intuitive and easy to use. Programs can be customized to your protocols to achieve optimal results. Programmable processes include fill, spin, decant and agitate. In addition, a loop step is available, enabling previously programmed processes to run multiple times. A check step can also be incorporated into programs. The check step makes it easy to run wash cycles, add reagents, and then perform a quick spin – all in one in-line process. Improve efficiencies with streamlined work flows, because there is no need to transfer tubes to a separate centrifuge for spins.

Watch our demonstration video to learn more about the intuitive programming capabilities of the UltraCW® II Automatic Cell Washing System.

Helmer Scientific has been serving the blood bank community for more than 40 years. We are here to support your efforts to properly store and process your blood products. If you have additional questions about your cell washer, the Helmer Technical Service team is available to help. Contact us at techservice@helmerinc.com or 800-743-5637. Or contact our sales team for more information on the UltraCW® II.
Other Blogs You Might Be Interested In...