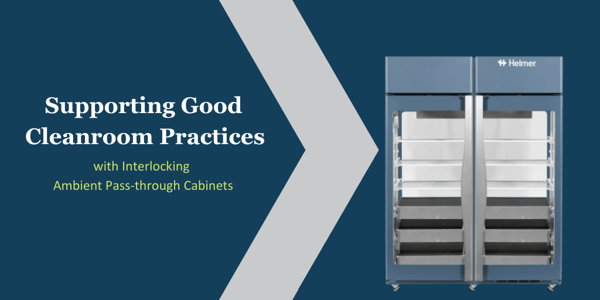 Ambient temperature pass-through cabinets, also known as pass-through chambers, are used across a variety of applications and environments. They assist in managing risk of contamination which is critical for safety and compliance in clean room environments. Pass-through cabinets help in reducing the frequency of entrances and exits into clean rooms while also limiting the inconvenience, time, and cost required for garbing.

Ambient pass-through cabinets are routinely used for pharmacy sterile compounding clean rooms that are designed to meet USP Chapter <797> requirements. USP Chapter <797> provides direction to help protect against contamination caused by transferring material, such as supplies and equipment, from lower-quality, non-clean spaces (like anterooms) into higher-quality cleaners spaces (such as ISO Class 5 rooms). USP Chapter <797> reinforces that doors on both sides of the ambient pass through cabinet should not be opened at the same time, and interlocking doors should be used.
Helmer Scientific has expanded its custom product portfolio to include full-size, ambient temperature, pass-through cabinets with electronically controlled interlocking doors.
Ambient pass-through cabinets are offered in the same sizes as pass-through refrigerators. These full-size cabinets are available in both single and double door configurations to maximize flexibility for high volumes of product or bulk items that need to be passed in and out of clean spaces.
Ambient pass-through cabinets are available with electronically controlled door locks. When doors are opened on one side of the pass-through, doors on the opposite side are automatically and electronically locked. This functionality helps prevent doors on both sides of the pass-through from being opened at the same time to support good clean room practices.
OTHER BLOGS YOU MAY BE INTERESTED IN...
Learn more about Helmer Custom Products and Ambient Room Temperature Pass-thru Cabinets by following the link below.