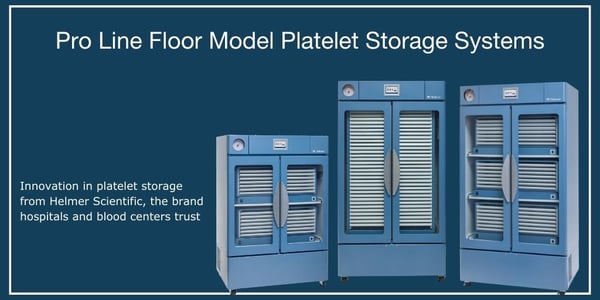 To maintain viability, room temperature platelet products must be stored within a tight temperature range and with continuous gentle agitation. Pro Line Floor Model Platelet Storage Systems from Helmer Scientific offer the precise temperature uniformity, constant agitation, and reliable performance that are critically important to blood banks and support regulatory compliance.
PERFORMANCE & SUSTAINABILITY
Pro Line floor model incubators are powered by OptiCool™ RT Cooling and Heating Technology. The OptiCool™ RT system combines a variable capacity compressor (VCC) and natural hydrocarbon (HC) refrigerants with pulse heating to deliver a safe and reliable storage solution for platelet storage.
OptiCool™ RT provides a consistent environment to safeguard room temperature platelet products. With optimal temperature uniformity of +/- 1°C and an operating set point of 22°C, these models ensure safe storage between 20-24°C.
Pro Line platelet storage with OptiCool™ RT also helps facilities meet new environmental standards to reduce the use of HFC refrigerants, supporting facility sustainability initiatives. In addition, quiet operation provides a better working environment for staff.
COST OF OWNERSHIP
The OptiCool™ RT system also reduces energy consumption. Pro Line floor model incubators use more than 75 percent less energy than previous generation models. This helps facilities reduce their utility bills, decreasing the total cost of ownership.
The following example is intended to illustrate how energy savings can help a facility's bottom line. Data on the cost of electricity in the United States was accessed from the U.S. Energy Information Administration (EIA) to assess the impact of energy efficiency on cost of ownership.
Conventional floor model platelet storage systems use up to 20.3 kWh/day. Next generation systems use up to 4.9 kWh/day.
If a blood bank converts a conventional floor model system with a Pro Line system, facilities in regions with average energy costs would experience savings of $600 to more than $700 annually, depending on the model.
During the 10-year lifespan of the system, this means a lifetime cost reduction of $6,000 to $7,000 (depending on the model). Areas with higher energy costs could save even more, and if a facility updates more than one floor model system, the energy savings and benefits multiply accordingly.
OTHER BLOGS YOU MAY BE INTERESTED IN...
Life-saving platelet products are critical to patient care. Pro Line Floor Model Platelet Storage Systems combine innovations in performance, reliability, and efficiency to safeguard platelets, decrease energy use, support sustainability, and reduce the cost of ownership.