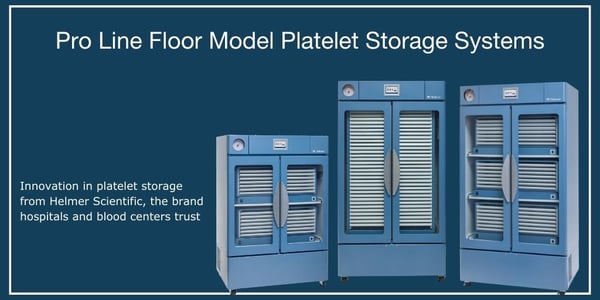 Helmer Scientific is committed to serving the blood bank community and pleased to announce the launch of Pro Line Floor Model Platelet Storage Systems. The new floor model systems combine innovations in performance, reliability, and efficiency to offer optimal platelet storage and support blood bank compliance.
Platelet transfusions are a critical therapy for preventing bleeding in cancer and transplant patients and for treating bleeding caused by trauma. Platelet products must be stored under specific conditions to maintain viability and regulatory compliance.
Pro Line floor model incubators are powered by OptiCool™ RT Cooling and Heating Technology. The OptiCool™ RT system pairs a variable capacity compressor (VCC) and natural hydrocarbon (HC) refrigerants with pulse heating to deliver a reliable storage solution for the safe storage of platelet products.
OptiCool™ RT provides a consistent environment to safeguard room temperature platelet products. With optimal temperature uniformity of +/- 1°C and an operating set point of 22°C, these models ensure safe storage between 20-24°C.
OptiCool™ RT also reduces energy consumption. Pro Line floor model incubators use more than 75 percent less energy than previous generation models. This helps facilities reduce their utility bills, decreasing the total cost of ownership.
Pro Line platelet storage with OptiCool™ RT helps facilities meet new environmental standards to reduce the use of HFC refrigerants, supporting facility sustainability initiatives. In addition, quiet operation provides a better working environment for staff.
Constant temperature monitoring is required to safely store platelets and support blood bank compliance. Pro Line floor model incubators feature the innovative i.Center® Plus Information Center. The i.Center® Plus provides next-generation technology for an improved user experience while maintaining world-class temperature monitoring to safeguard stored products.
Status data is readily available in one location, making it easy to see the status of your device with a single glance. Intuitive messages and prompts make it easy to set parameters, track performance, and download data.
Preventative maintenance tasks such as alarm testing and calibration have been simplified, and a wider variety of reports and logs with streamlined content and an improved download process are now available on-demand.
In addition, AgiTrak™ is integrated into the i.Center® Plus, and it monitors agitation performance, alarm conditions, and diagnostics to ensure continuous agitation of platelet products and support compliance with AABB standards.
OTHER BLOGS YOU MAY BE INTERESTED IN...
Life-saving platelet products are critical to patient care. Pro Line Floor Model Platelet Storage Systems combine innovations in performance, reliability, and efficiency to safeguard platelets, reduce energy use, and support sustainability as well as blood bank compliance.