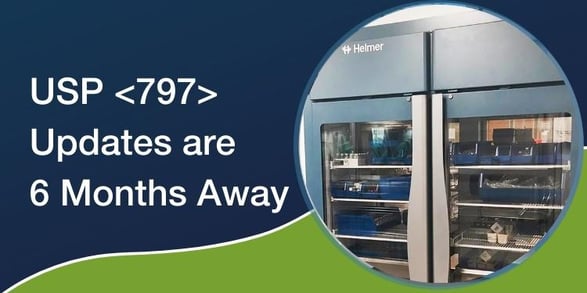 Updates to USP General Chapter <797> become fully enforceable November 1, 2023. This means facilities have roughly 6 months to finalize and validate workflows and processes associated with the new standard.
Since approving the final version of USP <797>, USP has provided, and regularly updated, a frequently asked questions section to provide transitional support and information.
Significant Changes
Hazardous Drug Preparation – November 1, 2023, also represents the enforceability date of USP General Chapter <800>, which provides standards for preparation, storage, and administration of hazardous drugs.
Standard Operating Procedures (SOPs) – Facilities are required to develop, maintain, and follow additional SOPs under new USP <797> standards. A major focus of the updated SOP requirement is to minimize sterile compounded preparation contamination and mix up. The additional SOPs required also focus on training, competency, and assigned duties for staff involved in sterile compounding.
Aseptic Technique – The updated USP <797> standards require all aseptic techniques, processes, and procedures are followed. It is also a requirement that written standard operating procedures (SOPs) are in place.
Staff Training – Under updated USP <797> requirements, staff must be trained and demonstrate competency and understanding as outlined in newly required SOPs.
Documentation – A compounding record is now required when preparing immediate-use preparations for more than one person.
What Comes Next?
Ensuring pharmacies are equipped to manage these coming changes with minimal disruption is a big task. Workflows that align with updated USP <797> standards, including updated testing requirements, need to be developed.
Helmer equipment is regularly deployed in USP-validated areas, including USP <797> and <800> clean rooms.
Other Blogs You Might Be Interested In...
As the deadline to meet updated USP <797> guidelines rapidly approaches, pharmacies should be in the process of finalizing the SOPs and facility updates necessary for compliance. Our website has a complete overview of how Helmer equipment supports updated USP chapter requirements.