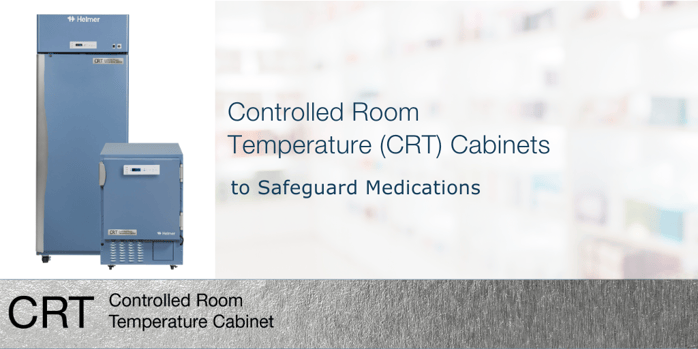 In General Chapter <1079>, the United States Pharmacopoeia (USP) provides detailed guidance for the storage and distribution of drugs. As part of this guidance, USP <1079> addresses risk related to medications that require temperature-controlled storage.
USP reinforces that products requiring storage at controlled room temperature (CRT) must be monitored, regulated and controlled.
USP <1079> defines room temperature as 20°C to 25°C (68°F to 77°F). USP <1079> also includes language that defines acceptable excursions, and extreme excursions that are only allowed based on mean kinetic temperatures. This language is provided to ensure drug storage is consistent with manufacture stability testing. These recommendations support initiatives to make sure drugs remain safe and efficacious through the entire cold chain (from creation all the way to administration).
When discussing temperature-controlled medications, typical focus is on medications that require storage at refrigerated or frozen temperatures. However, maintaining appropriate room temperatures can also be a significant challenge for pharmacies, especially in regions with warm and humid environments.
This can be particularly true when considering medications stored outside the pharmacy or outside a controlled hospital environment, including outpatient clinics or physician offices that are based in buildings where pharmacy does not have control over HVAC systems. In these situations, risks related to HVAC systems should be considered. HVAC systems may be adjusted during nights, weekends, or holidays as part of occupancy scheduling policies and may inadvertently allow storage temperatures to rise above allowed ranges.
To help address challenges related to the storage of medications that require room temperature conditions, Controlled Room Temperature (CRT) cabinets are now offered through Helmer Custom Products. CRT cabinets are available in the same sizes as our pharmacy refrigerators (undercounter and upright configurations). They are designed to support safety, quality, and compliance by maintaining product temperature in USP recommended room temperature ranges even when the ambient room temperature is as high as 32°C/ 90°F.
OTHER BLOGS YOU MAY BE INTERESTED IN...
Learn more about Controlled Room Temperature cabinets from Helmer Scientific by following the link below.