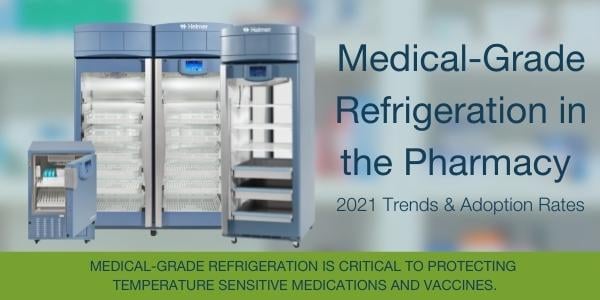 Medical-grade refrigeration is a critical product category for hospital pharmacy to help safeguard life-saving medications and vaccines.
Pharmacy Purchasing & Products (PP&P) recently released the 16th Annual State of Pharmacy Automation Report, which surveys pharmacists on the use of medical-grade cold storage. This report is based on responses from 365 pharmacy leaders across facilities of different sizes, locations, and practice settings.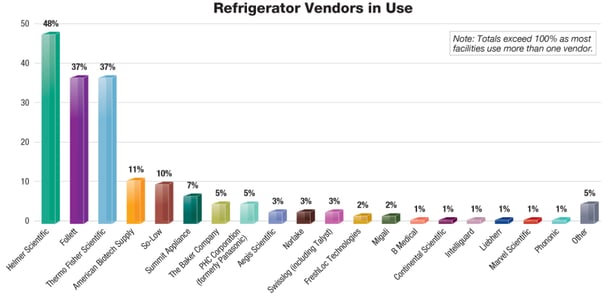 State of Pharmacy Automation. Pharm Purch Prod. 2021;8:4-71
In the 2021 report, PP&P asked specific questions related to the adoption of medical-grade refrigeration vendors used for medication and vaccine storage. Helmer Scientific was reported as the most commonly used brand by pharmacy leaders in this survey.
The results of the PP&P survey also indicate around 95 percent of hospitals are committed to using medical-grade refrigerators in their central pharmacy with adoption rates highest in those facilities with the greatest number of beds.
However, reported medical-grade adoption continues to remain higher in the pharmacy than on the units. 59 percent of respondents cited exclusively using medical-grade refrigeration in the nursing units versus 82 percent in the pharmacy. Adoption trends for medical-grade refrigerators continues to increase year-over-year according to this survey.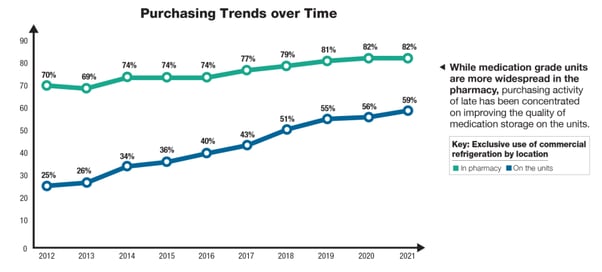 State of Pharmacy Automation. Pharm Purch Prod. 2021;8:4-71
Other Blogs You Might Be Interested In...
This PP&P survey reinforces that pharmacists recognize medications and vaccines require reliable, high performance, medical-grade refrigeration to ensure the safety and efficacy of stored product.
To learn more about medical-grade refrigeration, visit our website.
Graphics from PP&P