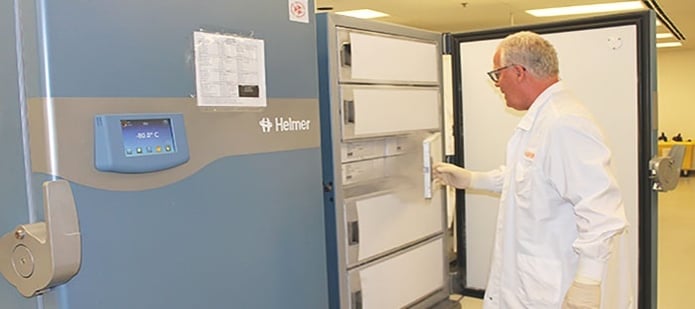 BASi® (Bioanalytical Systems, Inc.) is a contract research organization headquartered in West Lafayette, Indiana. BASi® provides research services to the life sciences industry, primarily in drug research, discovery, and development. Over the past 42 years, BASi® has become established as an industry leader in contract research, utilizing sophisticated instrumentation to meet demanding requirements.
BASi® utilizes ultra-low temperature freezers for their Bioanalytical Services. The freezers store both clinical and non-clinical samples, including blood, plasma, urine, and tissues, as well as more esoteric specimens such as cerebrospinal fluid and tears. Supporting materials such as calibration standards and quality control samples must also be stored at the appropriate temperature. For storage of these materials, it is critical that the correct temperature is maintained. This is so important that BASi® conducts stability studies to verify that materials are not decomposing during storage.
"Samples generated when conducting the studies required to bring a drug to market are critical to determining the safety and efficacy of that drug," said Don Gray, Laboratory Services Manager. "It is critical to maintain the integrity of these samples." Because of importance of these samples, it is essential that cold storage equipment be reliable and easily serviceable.
BASi® has been using ultra-low freezers for more than 20 years. Due to expansion as well as some freezers reaching the end of their lifespan, BASi® sought out newer technologies in the market, recognizing an opportunity to branch out and to potentially improve their processes. They asked the company that provides them with HVAC services for feedback on providers of reliable cold-storage equipment and Helmer Scientific was recommended.
In addition to reliability, serviceability was also an important consideration in BASi®'s evaluation. Equipment that works hard does periodically need to be serviced. During the development of the ultra-low freezer line, Helmer Scientific took special care to focus on serviceability along with reliability. For example, special attention was paid to the accessibility of critical components, both in terms of line-of-sight and also tool access. In addition, the freezers provide diagnostic information to support faster troubleshooting, which can save time and money.
The sensitive and valuable samples stored by a contract research organization must be kept under lock and key. This can be accomplished by various means, for example, by placing freezers in secured areas. Another way to achieve this is utilizing the Access Control system that is a standard feature on i.Series® Ultra-Low Freezers. Access Control provides an electromagnetic lock that is incorporated into the design of the freezer. In order to unlock the freezer door, users must enter a PIN into the user interface. This restricts access into the freezer to authorized users, and tracks all access attempts.
BASi is a pharmaceutical development company providing Preclinical, Toxicological and Bioanalytical contract research services and monitoring instruments to the world's leading drug development companies and medical research organizations. BASi® focuses on developing innovative services and products that increase efficiency and reduce the cost of taking a new drug to market. For more information on their contract research services, visit www.basinc.com.
To help meet the challenge of providing equipment that researchers and clinicians can depend on, Helmer Scientific offers the i.Series® line of Ultra-Low Freezers. Helmer Scientific Medical-Grade Ultra-Low Freezers are designed with the reliability and quality that is demanded for sensitive and precious samples. To learn more about how Helmer Ultra-Low Freezers are made to meet demanding requirements, watch our video on the optimized refrigeration system.