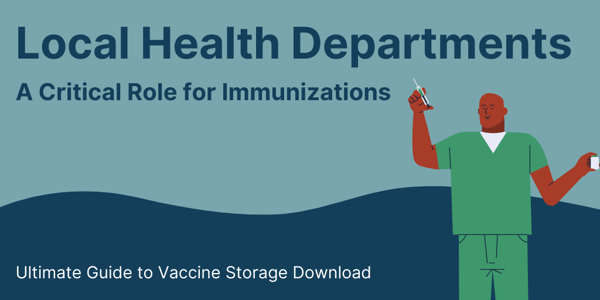 Local health departments (LHDs) play an important role in keeping their communities healthy from disease and outbreak. Many serve as a physical location to deliver basic health services, such as immunizations, primary care, family planning, STD control, nutrition, WIC, CSS, prenatal, health education, and environmental health as well as provide public health outreach and education. LHDs play an even more critical role when considering the COVID-19 pandemic and preparations for new vaccination programs.
LHDs are facing significant challenges as resources continue to be limited in times of need. According to the National Association of Counties (NACO) there are over 2800 local health departments serving our communities with approximately 25% of funding for these facilities dependent on federal sources. 20% of local health departments have experienced decreased budgets over the last decade while the need and importance of services has increased, including services provided to patients at highest risk.
The CDC estimates that vaccine manufacturers will supply 20 million additional doses of flu vaccine in the 2020-2021 season compared to a record number of doses supplied during the 2019-2020 season. These increases are anticipated due to the importance of reducing respiratory disease and burden on hospitals during the COVID-19 pandemic.
In addition to expected increases in flu vaccinations, there is great interest in the ongoing progress of new COVID-19 vaccines as multiple vaccine candidates have entered US-based Phase III studies over the past several weeks. As logistics, distribution, and cold chain for these new vaccines are still being determined, LHDs will need to be ready to support unprecedented vaccination needs.
It is critical that we continue to support LHDs as ongoing surge capacity is likely needed to address flu season and COVID-19 testing and treatment, as well as to prepare for new COVID-19 vaccines. Local health departments are key providers of immunizations, and vaccines play an important role in overall population health. The Association of State and Territorial Health Officials (ASTHO) Immunization Guide, developed with the CDC, indicates that certain vaccines can return over $10 in direct health saving for every $1 invested.
To ensure every vaccination is safe and effective, LHDs follow guidelines for vaccine storage as provided in the CDC's Vaccine Storage and Handling Toolkit. These guidelines provide recommendations related to the type of cold storage equipment and temperature monitoring procedures implemented to ensure vaccines remain effective and viable through administration to the patient.
OTHER BLOGS YOU MAY BE INTERESTED IN...
Helmer Scientific is proud to work with many LHDs across the country to provide specialized vaccine refrigerators designed to safeguard this sensitive product category and support CDC guidelines for storage.
Our GX Solutions products have been designed and developed specifically to support current and emerging vaccine storage temperature performance requirements. In addition, GX Solutions provide industry-leading performance related to noise, sustainability, and energy efficiency.
We have created the Ultimate Guide for Vaccine Storage, which provides an overview of the vaccine storage and temperature monitoring recommendations and best practices from the CDC in an easy to digest format. Download the guide for a quick reference as you prepare for this upcoming vaccination season.
Helmer Scientific thanks our local health departments for their ongoing focus on vaccination programs and for new efforts to test and care for patients affected by COVID-19.