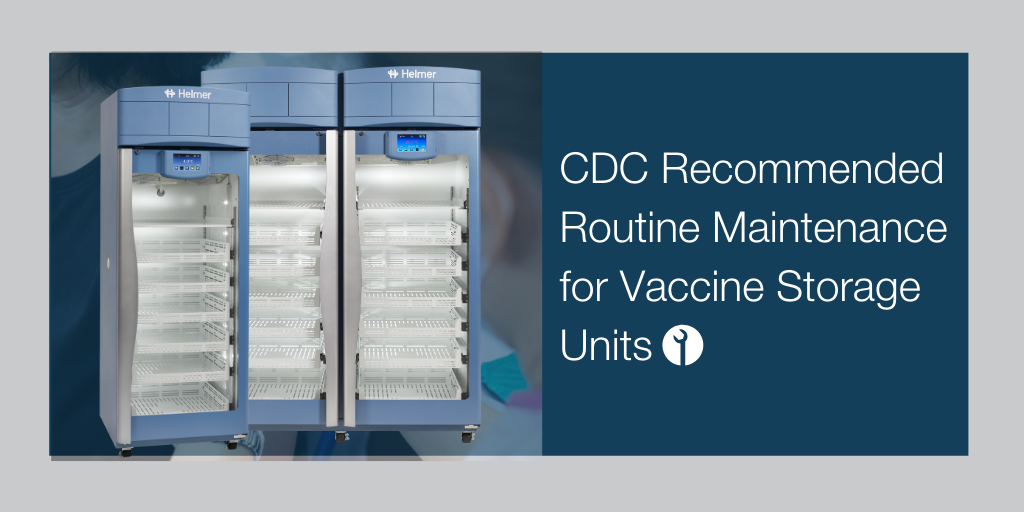 The updated CDC Storage and Handling Toolkit states that storage units and Temperature Monitoring Devices (TMDs) need regular maintenance to ensure proper operation.
The following excerpts from the toolkit provide the essential steps for preventing problems:
Conduct routine maintenance for all storage units and provide regular maintenance to ensure proper operation of TMDs. Proper equipment operation is essential to the longevity of your units. It also ensures the units can function at maximum efficiency to provide proper temperature uniformity, stability and control.
Here is a basic maintenance checklist for your vaccine storage equipment:
Check seals and door hinges.

Clean coils and other components per manufacturer's directions

Defrost manual-defrost freezers when the frost exceeds either 1 cm or the manufacturer's suggested limit. Follow the manufacturer's instructions. While defrosting, store vaccines temporarily in another unit with appropriate freezer temperatures.

We suggest using an automatic defrost unit to avoid the hassle and risk of having to transfer vaccines during manual defrosts.

Clean the interior of each unit to discourage bacterial and fungal growth. Do so quickly to minimize the risk of a temperature excursion.

Test any backup generator quarterly and have it serviced annually.
Troubleshooting Equipment Problems: Adjusting Storage Unit Temperatures
Storage unit temperatures, primarily for household units being used to store vaccines, may need to be adjusted over time. In some situations, thermostats may need to be reset in the summer and winter, depending on room temperature. If you are using a household unit, temperature adjustments should:
Be made by the primary or alternate vaccine coordinator, based on information from the TMD and temperature monitoring log.

Be done at a time that is not during a busy workday when the unit door is being frequently opened and closed.

Remember that temperatures within any storage unit will vary slightly, even with normal use. Therefore, before making any adjustment:

Confirm the unit is securely plugged into a power source

Check the temperature inside the storage unit.

Wait 30 minutes, without opening the door, to allow the temperature to stabilize and then check it again to determine if the thermostat should be adjusted. If you believe there could be an issue with your TMD, use your backup device to confirm the temperature.
If you confirm that an adjustment is needed:
Refer to the owner's manual for detailed instructions.

Make a small adjustment toward a warmer or colder setting by turning the thermostat knob slowly to avoid going outside the correct temperature range.

True, purpose built refrigerators and freezers will utilize a microprocessor temperature controller. This is extremely helpful and reduces risk when it comes to adjusting storage unit temperatures.

Once the adjustment is made, allow the temperature inside the unit to stabilize for 30 minutes without opening the door.

A household refrigerator will take a much longer time to adjust to the new set temperature than a purpose built/pharmaceutical-grade unit.

Recheck the temperature.

Repeat these steps as needed until the temperature has stabilized between 2°C and 8°C (36°F and 46°F) for a refrigerator or between -50°C and -15°C (-58°F and +5°F) for a freezer.

Consider placing additional water bottles in the unit to help improve temperature stability.

This recommendation is directly for household refrigerators used for vaccine storage. True medical-grade vaccine storage will provide optimal temperature uniformity and stability without the use of water bottles which means more usable space for your vaccines.
Other Blogs You Might Be Interested In...
Do not leave vaccines in a storage unit that does not maintain temperatures within the recommended range. If you are unable to stabilize the temperature in your unit within the required range, or temperatures in the unit are consistently at the extreme high or low end of the range, your vaccine supply is at high risk.
Use your Standard Operating Procedures to identify an alternative unit with appropriate temperatures and sufficient storage space until the primary unit can be repaired or replaced.
No matter what type of storage unit you are using in your practice. Routine maintenance is essential to keep vaccines stored safely and effectively. Maintenance can also help extend the life of your equipment. To find this information directly inside the CDC Vaccine Toolkit, you can download it at the link below.