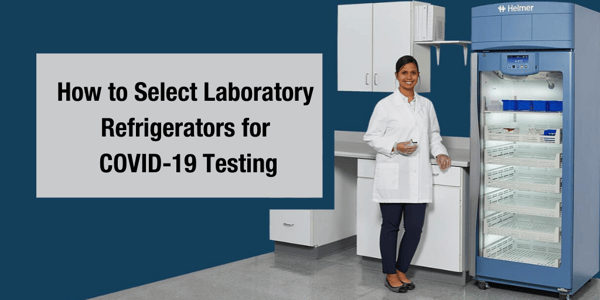 Since the early days of the pandemic, laboratories have had to build their testing capacity for COVID-19. As the need for increased testing continues, labs have been presented with multiple challenges, including concerns about the accuracy of results.
There are multiple factors that influence test accuracy. One of these is specimen handling. Samples for COVID-19 testing need to be stored at 2-8°C for up to 72 hours after collection. According to the American Society for Microbiology (ASM), "Without proper transport medium or storage, specimens degrade. This is especially true for the RNA that is detected by an RT-PCR test. RNA is less stable than DNA, so if a specimen is not transported or stored appropriately, the risk of a false-negative RT-PCR result increases."
To support efforts to expand testing capacity and to maximize accuracy, selecting Laboratory Refrigerators that are designed for critical applications is more important than ever before. Like patient samples, many reagents also require storage from 2-8°C. Both require reliable storage within this precise temperature range.
Helmer Scientific has been serving clinical laboratories for more than 40 years. Over time we have received questions about what is important in the design of a Laboratory Refrigerator. What is it about the refrigerator that makes it suitable for storing patient samples and reagents? How does it help a clinical lab ensure it is meeting the requirements of accrediting agencies?
For this reason, we have developed a Best Practices Guide for Selecting Laboratory Refrigerators. It includes specific College of American Pathologists (CAP) checklist requirements and considerations for implementation that apply to the characteristics of a Laboratory Refrigerator. The guide also provides several other considerations for best practices. It clarifies how the design of a Laboratory Refrigerator can help clinical laboratories comply with requirements and facilitate best practices in an easy-to-use checklist format.
Other Blogs You Might Be Interested In...
Helmer Scientific supports clinical laboratories, the patients they serve, and their efforts to ensure accurate test results. We would like to express our gratitude to all staff involved in the diagnostic testing that is critical for treating patients and saving lives. We are here to help you properly store your critical materials during the COVID-19 pandemic.
To learn more about refrigerated storage designed to keep your samples and reagents safe, download the Best Practices Guide for Selecting Laboratory Refrigerators.