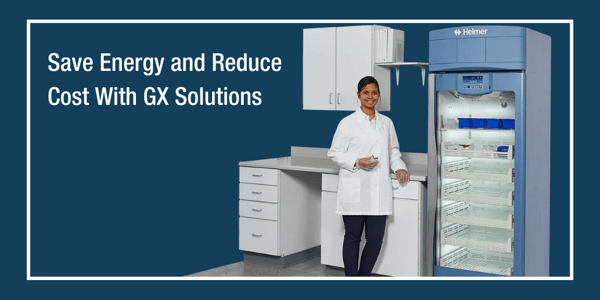 Temperature-sensitive pharmaceuticals, medications, and vaccines must be safeguarded to ensure drug efficacy and patient safety. Storing pharmaceuticals at manufacturer recommend temperature ranges also supports regulatory compliance and prevents financial losses.
Advances in refrigeration technology have made it possible for pharmacies to protect their stored products while also reducing energy consumption.
GX Solutions professional medical-grade refrigerators from Helmer Scientific utilize innovative OptiCool™ technology. Designed for critical healthcare applications, GX Solutions offer optimized temperature management along with decreased energy use.
Conventional cooling technology has been used in medical-grade refrigeration for many years. These traditional systems control the temperature but consume more energy than newer approaches.
Transitioning conventional refrigeration in the pharmacy to GX Solutions decreases energy usage. This, in turn, helps facilities reduce their utility bills, lowering the total cost of ownership.
50-65% more energy efficient than conventional medical-grade refrigerators

Decreased carbon footprint - natural hydrocarbon (HC) refrigerant dramatically decreases global warming potential (GWP)

Uses R600a, a Significant New Alternatives Policy (SNAP) and EU F-Gas compliant natural refrigerant
Reduced heat output limits HVAC system impact
In addition to cutting back on energy use, GX Solutions can reduce heat output into the pharmacy and benefit the environment by decreasing global warming potential. These advantages help pharmacies support their organization's sustainability initiatives.
OTHER BLOGS YOU MIGHT BE INTERESTED IN...
Download our white paper, "Energy Usage – GX Solutions with the OptiCool™ System," for an overview of the cooling technology that makes these results possible, as well as data on the reduction in energy use that can be achieved by switching from conventional medical-grade refrigerators to GX Solutions.
The white paper also demonstrates the impact of energy efficiency on cost of ownership and how facilities can save money year after year by updating to GX Solutions.