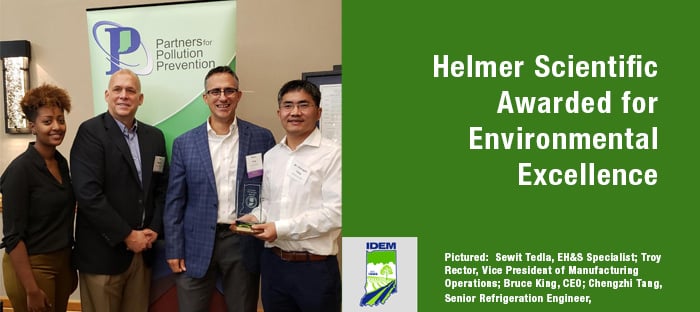 The Indiana Governor's Awards for Environmental Excellence were presented Wednesday, Sept 18, to six recipients who were honored for extraordinary initiatives in protecting the environment. The 2019 categories included: Energy Efficiency/Renewable Resources, Environmental Outreach/Education, Greening the Government, Land Use/Conservation, Pollution Prevention and Recycle/Reuse. Helmer Scientific was proud to be selected as the recipient of the 2019 Environmental Excellence Award for Pollution Prevention.
This award was based on Helmer Scientific's recent refrigeration redesign project, converting to natural hydrocarbon refrigerants and eliminating the use of hydrofluorocarbon refrigerants which can cause detrimental effects to the environment. Helmer Scientific estimates that it has eliminated over 3,800 pounds of refrigerant charge, over 5,000 tons of C02 equivalent, and over 5,300 pounds of hydrofluorocarbon refrigerants annually. In addition, Helmer Scientific has reduced energy usage by over 31,000 kilowatt hours per day, and reduced raw materials used such as steel, copper, and aluminum by over 70 tons. Helmer Scientific's initiative will also result in dramatic energy savings across their installed base of products.
"I am pleased to award this year's Governor's Awards for Environmental Excellence," said Bruno Pigott, commissioner of the Indiana Department of Environmental Management (IDEM). "These Awards recognize Indiana's leaders who have implemented the most innovative, sustainable, and exemplary programs or projects."
Commissioner Pigott and Rebecca Holwerda, Senior Operations Director for Governor Eric Holcomb, presented the awards during the 22nd annual Pollution Prevention Conference and Tradeshow held at the Marriott North in Indianapolis.
"We're honored to have been chosen for this award," said Troy Rector, Vice President of Manufacturing Operations. "I'm proud of the entire team that contributed to this project. We were able to touch every aspect of pollution prevention."
To learn more about the Governor's Awards for Environmental Excellence, read the complete press release.
Other Blogs you may be Interested In...